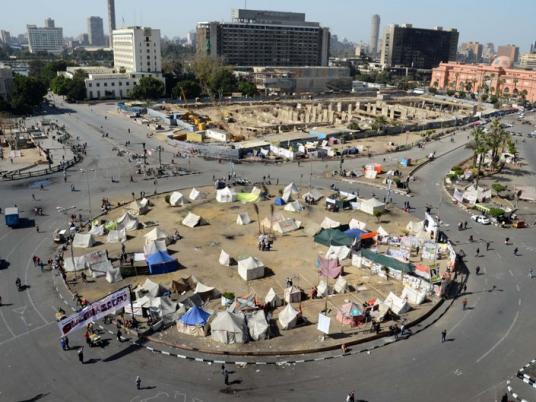 Tahrir Square was closed once again by protesters Wednesday after security forces briefly reopened it to traffic.
Protesters placed metal barriers and razor wire at the square's entrances at the Egyptian Museum, the Qasr al-Nil Bridge, and the entrances to Mohamed Mahmoud, Falaki and Qasr al-Nil Streets, while protesters in the square chanted against the Interior Ministry and President Mohamed Morsy.
Traffic was backed up on surrounding streets and Bostan and Qasr al-Nil Streets once again became two way streets.
Security forces had earlier Wednesday removed all metal barriers and barbed wires at the square's entrances for the third time in six months after clashes with rioters and street vendors, according to a source at the Cairo Security Directorate.
Security forces arrested 53 people on charges of arms possession after protesters allegedly packed several sacks with iron pieces hooked up to electricity near the Arab League building, apparently to give security forces electric shocks if they tried to open the square.
The source added that security forces had only removed the barriers and wires at the entrances, without removing the protesters' tents.
Street cleaners also removed the burned police vehicle that was at the square, according to the source.
Edited translation from Al-Masry Al-Youm