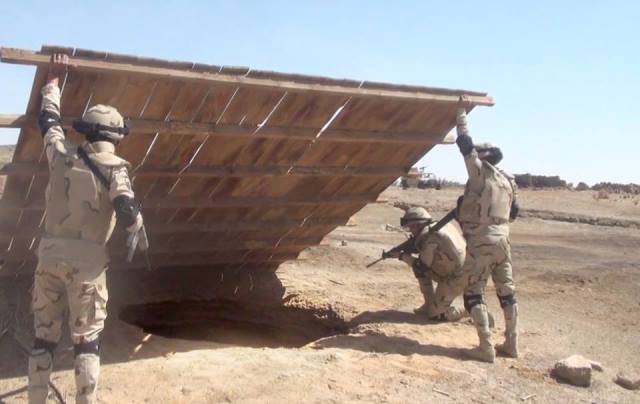 The official spokesperson for the armed forces Tamer al-Refeai released a statement Sunday on the Sinai 2018 operation, saying the air force, army and police had killed 10 "dangerous takfirists" in al-Arish and destroyed two cars that would have been used as bombs to target the military.
The statement added that the combined forces arrested 245 criminal suspects but released an unspecified number of the individuals following background checks.
The forces also destroyed 145 shelters and dens in mountain areas used to shelter "terrorist elements," according to the statement.
The statement said that the forces destroyed over 10 thousand litres of gasoline, in addition to 12 cars and 28 motorcycles without number plates.
Moreover, the forces destroyed a workshop for manufacturing explosive devices and another 39 explosive devices prepared for targeting the troops, the statement said.
They also destroyed 21 farms used for growing opium and marijuana and seized five tons of drugs prepared for trading, according to the statement.
Meanwhile, the air force managed to destroy 11 vehicles carrying machine guns and ammunition while trying to cross the country's western border, the statement added.
The military and police set-up 609 security checkpoints and patrols on the main roads, the statement says.
The tactical infantry, naval and border guard forces reinforced security on the western and southern borders and along the Egyptian coasts.
Two military officers and two soldiers were killed and another military officer and three soldiers injured during clashes against the militants, the statement said.