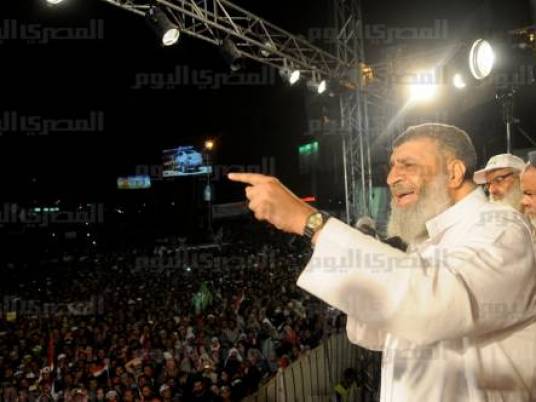 Tens of thousands of supporters of toppled President Mohamed Morsy took to the streets Tuesday in what was dubbed "Day of the Martyr."
The National Coalition to Support Legitimacy called for mass protests Tuesday to bring justice to the protesters killed outside the Republican Guard headquarters Monday at dawn and demand Morsy's reinstatement.
Protesters held a funeral for two victims as they chanted against the armed forces. They demanded for a revolutionary trial in which to try murderers, warning of a "revolution of anger" if authorities continued to ignore them.
Speakers at the main stage at Rabaa al-Adaweya called on the armed forces to respond quickly to the demands of protesters by reinstating Morsy and retreating to its military barracks on the border.
They also called for purifying the media, the judiciary, and the police of corrupt figures, and to punish those responsible for the deaths in clashes nationwide over the past few days.
"Morsy supporters will not leave the squares unless retribution for all the martyrs is achieved," protesters stressed.
Buses coming from other governorates started to transport pro-Morsy protesters on Tuesday. Popular committees were formed to secure Rabaa al-Adaweya Square.
Marches from Ain Shams, Alf Maskan, and al-Marg neighborhoods brought thousands of protesters to the Rabaa sit-in. They chanted, "We will continue, there are yet seven years," referring to Morsy's total presidential term if he had been relected to office in three years.
They raised Egyptian flags, jihadist flags, and flags of Asala, Fadila, Wasat, FJP, the Construction and Development party, and other political parties.
Jama'a al-Islamiya leader Assem Abdel Maged announced a campaign with the slogan "Morsy is my president" that aims to collect 40 million signatures for the return of the toppled president.
In his speech on a stage at Rabaa, Abdel Maged called on the Nour Party and its leaders to "come to their senses and go down to the squares and support Morsy's reinstatement."
Troops at the Republican Guard House deployed a number of tanks and set up barbed wire and a concrete wall. More soldiers were also deployed two kilometers away on al-Tayaran Street.
Edited translation from Al-Masry Al-Youm