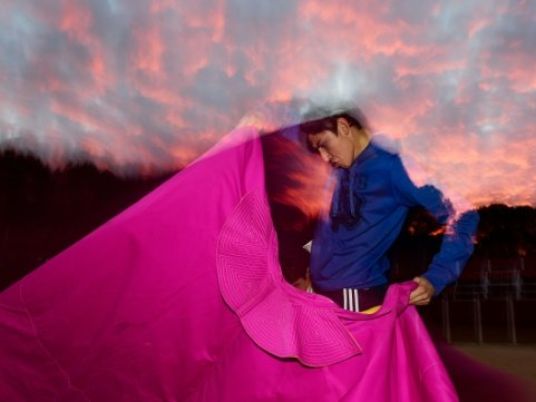 Several thousand people rallied in Madrid on Saturday to demand a ban on bullfighting, adding their voices to a growing animal rights movement that has prompted some local authorities to clamp down on the centuries-old tradition.
Bullfighting is still common in Spain and the practice retains a loyal following. Some annual events such as the San Fermin bull runs through the crowded streets of the northern city of Pamplona attract many tourists too.
But a backlash against bullfights and other blood sports is also gaining force, and each year — partly due to a long economic crisis — there has been a decline in the number of corridas, where audiences watch elaborately dressed toreros confront bulls at close range with red capes and swords.
"It makes me sad that some people want to have fun at the expense of another living being. There are other ways to pass the time," said Mari Paz Rojo, 42, an administrative assistant, as she marched through the capital with thousands of other demonstrators.
"We don't want Spaniards to be identified with bullfighting, this is not our national fiesta," she added.
Animal rights political party Pacma said Saturday's rally was the biggest anti-bullfighting protest to date.
Surveys show public support for bullfighting has waned in recent decades in Spain. An Ipsos Mori poll from January, carried out for animal welfare organization World Animal Protection, found that only 19 percent of adults in Spain supported bullfighting, while 58 percent opposed it.
Though Pacma does not have any lawmakers, its share of votes has increased in recent general elections, including in ballots in December and June.
Politically the issue has been divisive. Spain's parliament, under the center-right government of the People's Party (PP), moved to protect bullfighting in 2013, declaring it a cultural asset and enabling it to draw on public funding.
But some regions have cracked down on elements of these festivals, including northeastern Catalonia, which banned bullfighting outright in 2011.
Madrid's leftist mayor, who took over the city council last year, has withdrawn subsidies for bullfighting schools.
This year for the first time, participants in one of Spain's most controversial festivals, known as the "Toro de la Vega" (Bull of the Plain), will not be allowed to kill the bull.
The event in the small town of Tordesillas, which dates back to medieval times, involves hunters on horseback chasing a bull with lances.