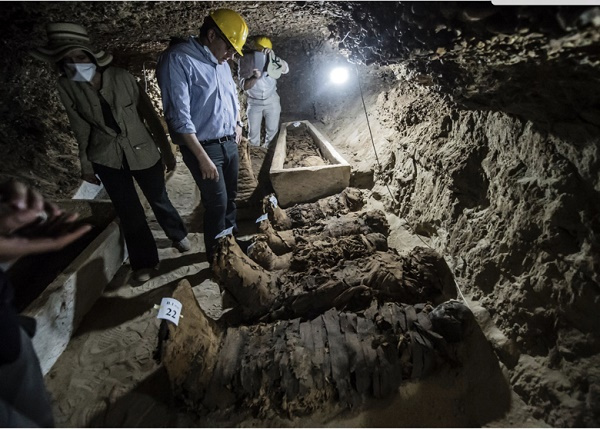 Egypt's Ministry of Antiquities has uncovered on Saturday three cemeteries dating back to the New Kingdom of Egypt between 1570 BC and 1544 BC in Giza's Sakkara necropolis.
Minister of Antiquities Khaled al-Anani said the Pharaohs used the cemeteries for cats.
Ambassadors of 30 countries, including Italy, France, Japan, Austria, Belarus, Saudi Arabia and Denmark, and representatives of foreign mass media attended the celebration for the new discovery.
He added that another four cemeteries were discovered that date back to the Egypt's Old Kingdom between 2686 BC and 2181 BC in Sakkara. They contained the cemetery of the supervisor of the royal installations in the late Fifth Dynasty and the beginning of the Sixth Dynasty, Khufu Emhat.
Secretary General of the Supreme Council of Antiquities Mostafa Waziri pointed out that the ministry found two mummies of scarabs in a Memphis cemetery in southern Giza, as well as a limestone square coffin covered with a black scarab, which contains four scarab mummies.
Edited translation from Al-Masry Al-Youm