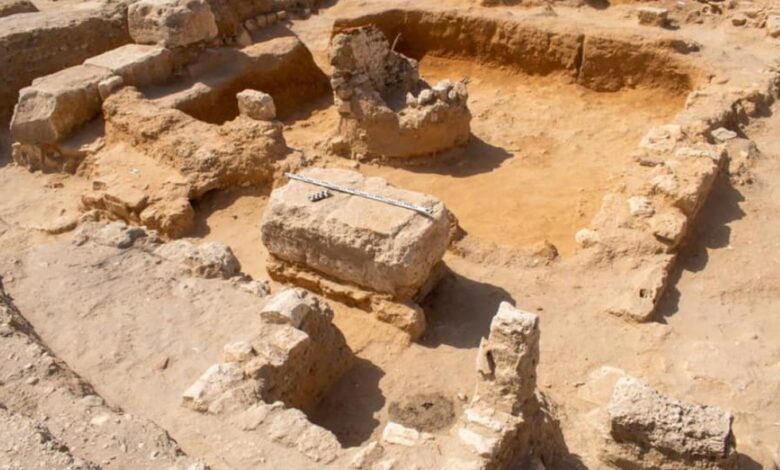 Egypt's Ministry of Tourism and Antiquities announced the discovery of a residential and commercial suburb dating back to the Greek and Roman periods in the city of Alexandria.
An Egyptian archaeological mission uncovered the remains of the suburb during excavations in Alexandria's Shatby area, a ministry statement read.
According to Secretary-General of the Supreme Council of Antiquities Mostafa al-Waziry, the discovery is an important one, as it sheds light on the activities that took place along the outer walls of the Egyptian city during the Greek and Roman eras.
Waziry added that the team found resting places for travelers and visitors to the city while they waited for entry permits, as well as check and determine taxes on goods imported to the city from the east.
Preliminary surveys of the area show that it featured a main street perpendicular to small streets, all of which were connected to a sewage network.
The team also estimates that this area was used for a long time, spanning the second and fourth centuries B.C.
The mission uncovered 40 carved water wells and a huge network of tunnel cisterns to store the water during dry seasons, Head of the Egyptian Antiquities Sector at the Supreme Council of Antiquities, Ayman Ashmawy, said.
Ashmawy pointed out that inside the cisterns lay pottery, lamps, and some statues, indicating the population density of the area.
Also found were the remains of a cabin in which a basin may have been dedicated to the goddesses Athena and Dimitra, who were are deities of hunting and fishing, Head of the Central Department of Antiquities of Lower Egypt, Nadia Khedr, revealed.
Khader added that the team also uncovered the remains of a room next to the cabin, which contained a group of small ovens that were used for burning sacrifices and cooking. Alongside the ovens were small urns for storing grain.
Studies show that the discovered suburb included a commercial market that had workshops and shops for the manufacture of statues of deities, legendary heroes, emperors, and celebrities, Director General of Antiquities of Alexandria, Khaled Aboul Hamad, said
Furthermore, he said, a trove of amulets and metal works, 700 antique coins, dishes, and utensils, and tools were uncovered.
The archaeological findings indicate that the area was closely involved with the city's incoming trade, fishing, and the manufacture of tools.
The statues were mostly resembling Alexander the Great, hunting deities, and mythical heroes, indicating that most of the shops' customers were hunters, Mission Head Ibrahim Mostafa confirmed.
Mostafa added that the excavation work on the site took nine months, and that 3D documentation of the area is currently underway.
The archaeological finds are scheduled to be transferred to the Tourism Ministry's restoration laboratories for repair and reassembling.