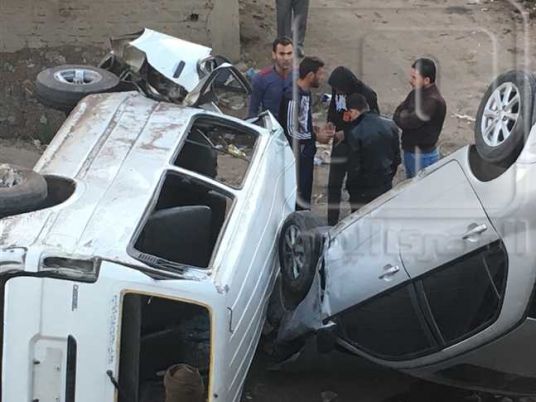 Two people were killed and three others were injured by the rollover of a private car at kilometer 50 on Ras Ghareb-Hurghada road, north of the Red Sea Governorate.
Badawi Saeed, Director of the Red Sea Ambulance Facility, received a notification from the police about the accident. The injured were transferred to Hurghada General Hospital and the dead bodies to the morgue.
An official report was filed on the incident and the Public Prosecution was notified to initiate an investigation.
The preliminary investigations revealed that the names of the deceased were Samar Ramadan Abdel Wanis and Maryam Wael Zakaria, while the injured were Wael Zakaria Mohieddin, Sahar Ismail al-Beshbishy and Mohamed Wael Zakaria, all from Gharbiya governorate.
Egypt has a road traffic fatality rate of 42 deaths per 100,000 people, according to the World Health Organization. The majority (48 percent) of those killed are passengers of four-wheeled automobiles, although pedestrians also constitute a significant proportion (20 percent) of these fatalities.
According to a report by the Central Agency for Public Mobilization and Statistics on accidents in 2017, car accidents on roads resulted in 3,747 deaths, 13,998 injuries, and 17,201 damaged vehicles during that year.
The report added that the primary cause of accidents was the human factor, which accounted for 78.9 percent of total accidents, followed by defects in the vehicle at 14 percent and environmental causes (such as road conditions) at two percent of total accidents.
Edited translation from Al-Masry Al-Youm