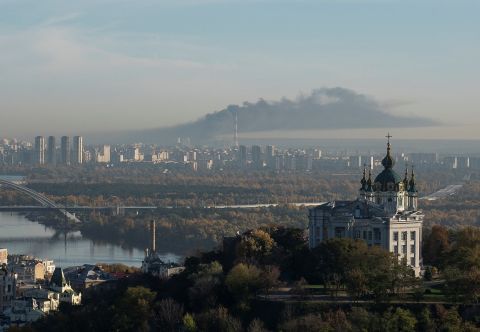 Ukraine is asking its citizens who fled the country following Russia's invasion not to return home this winter due to ongoing blackouts caused by Russian drone and missile strikes on the power grid.
Ukraine's Deputy Prime Minister Iryna Vereshchuk on Tuesday asked Ukrainians "not to come back just yet."
"We need to survive this winter. [If people come back] the electrical grid might fail," she said.
"You see what Russia is doing. Everybody sees that. Coming back now means exposing yourself, your children, vulnerable relatives to this," added Vereshchuk.
"In spring I would really like for us to work together to rebuild our Kharkiv region, Kherson region and the rest of our cities and settlements here in Ukraine."
Vereshchuk said she understood that the situation could get worse, but whatever happens, "we survive this winter and then we think of everything else."
Ukrainian President Volodymyr Zelensky told an international conference in Berlin Tuesday that Russian missiles and Iranian-made drones have "destroyed more than a third" of Ukraine's energy sector.
Zelensky said the attacks were aimed at making "it harder for us to endure this winter."