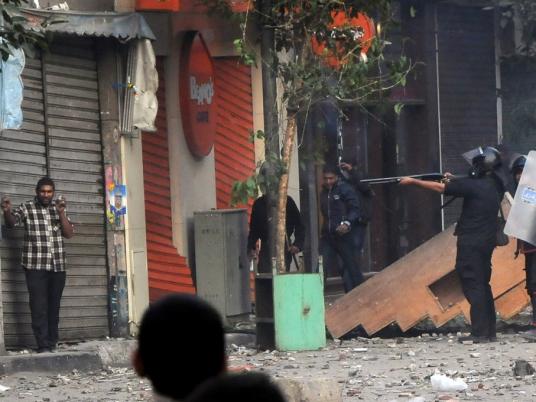 Hundreds of students from Cairo University and Ain Shams University staged protest rallies on Tuesday against the excessive use of force by military police and Interior Ministry forces as they attempted to close down protests in downtown Cairo. Several university students have been injured in the clashes, which have been ongoing since Friday, and at least one has been killed.
At Ain Shams, hundreds marched from the faculty of engineering to the nearby headquarters of the Ministry of Defense in Abbasseya, declaring their solidarity with protesters in Tahrir Square and denouncing police violence.
The students chanted slogans calling for a speedy handover of power to civilians and trials for those responsible for killing protesters.
One participant in the rally told Al-Masry Al-Youm that protesters have been angered by news that their colleague Hassan Mostafa was shot in the stomach during clashes on Monday night.
The protesters gathered in front of the Ministry of Defense, before Military Police cordened them off.
A different group of people gathered in the same area, and chanted slogans supporting the Supreme Council of the Armed Forces (SCAF), and accused the students of "treason" and "seeking to disrupt the country." The students returned to campus.
On Friday, Alaa Abd al-Hady, a fifth-year medical student at the university, was killed by a bullet injury to the head during the clashes, an incident which angered many Egyptians, especially students.
At Cairo University, hundreds staged protests as well. They announced a march to Tahrir Square and chanted slogans against Field Marshal Hussein Tantawi, the head of the SCAF.