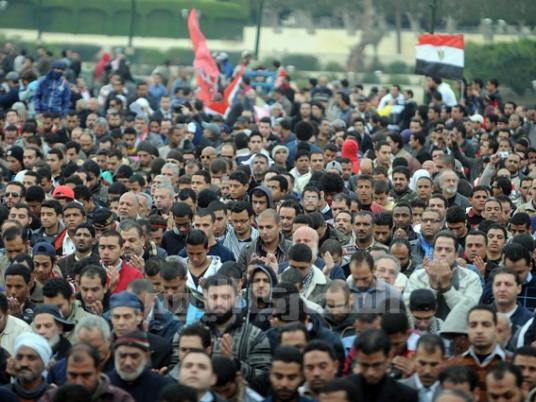 Former People's Assembly speaker Saad al-Katatny has won the chairmanship of the Freedom and Justice Party, officials announced on Friday afternoon.
In a brief victory speech, Katatny stated that his party would seek good governance through the application of Sharia. He applauded today's elections as an example of the democratic process, and said the real winner was the Freedom and Justice Party itself.
Katatny beat out FJP's acting head Essam al-Erian in today's elections.
Hussein Ibrahim, an executive member of the FJP and head of the committee supervising the election, announced that Katatny had won with 76 percent of the vote.
According to the party, 1,118 members were eligible to cast their vote in the internal elections.
Voting members of the party's general conference include all FJP MPs, all FJP members of the secretariats in governorates and the founding members in all governorates.
The voting was set to begin this morning in the 6th of October City's Educational City venue. The ceremony began with a recitation of the national anthem and verses from the Qu'ran as both voters and the supervising committee arrived.
However, the general conference quorum was not met during the party's first session on Friday morning, so the committee postponed the voting for another two hours. Only 400 members were in attendance this morning, while there needed to be a quorum of 772.
Party sources claimed that if the quorum was not met in the second session, the chairman would be elected through the absolute majority system. In this case, to win the elections one of the candidates must garner two-thirds of the vote in the first round.
If neither candidate received sufficient votes, elections would be held again. Whichever candidate would receive at least fifty percent of the vote, plus one additional vote, would then be elected chairman, according to the sources.
Supporters of both candidates campaigned in the early hours of the conference. Katatny supporters held large banners, while Erian supporters distributed bouquets of flowers.
Edited translation from Al-Masry Al-Youm