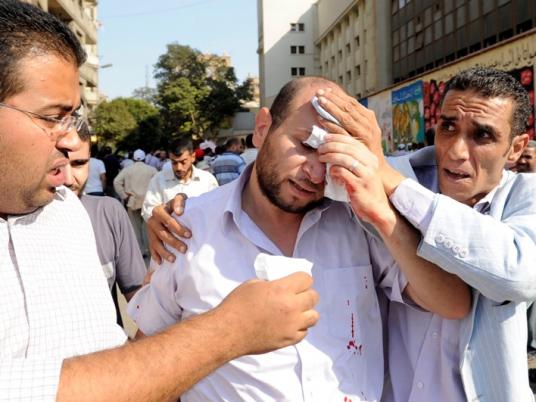 President Mohamed Morsy said he would form another Constituent Assembly if the current one does not finalize the new constitution within six months of its formation, as per the Constitutional Declaration of 30 March 2011.
The assembly was formed on 13 June 2012 at a joint meeting of the People's Assembly and the Shura Council.
Article 3 of Morsy's Constitutional Declaration that was proclaimed after his inauguration in August stipulates that, should the work of the assembly be impeded, the president would form another assembly within 15 days representing all spectra of the Egyptian society. The new assembly would be formed in consultation with the national forces, and would prepare a new constitution within three months from the date of its formation. The draft would put forward in a referendum for the people to vote within 30 days from the date of its completion.
At a meeting with popular leaders and leaders of the Muslim Brotherhood in Zagazig on Sunday, Morsy said he hoped the assembly would have national consensus on its draft.
On Saturday, Morsy said he blamed members of the former regime for impeding Egypt's progress and stoking chaos during recent protests in Tahrir Square during an Eid al-Adha visit to Sharqiya Governorate Saturday.
"The leaders of corruption who belong to the former regime still nourish the counter-revolution to abort any progress in Egypt," said Morsy.
Morsy added the security services had arrested about 600 people during an anti-Muslim Brotherhood demonstration on 12 October, claiming that many confessed to receiving LE1000 each to create chaos.
Activists and political forces had accused the Muslim Brotherhood, to which Morsy formerly belonged, of inciting its members to attack anti-president and anti-Brotherhood protesters. Many filed claims at police stations that are currently being investigated.
During his meeting, on Saturday with a number of popular leaders and Muslim Brotherhood and FJP members in Sharqiya Governorate, Morsy also denied any intention to change the Cabinet, saying that he was pushing the Cabinet to work with the Freedom and Justice Party to implement the Renaissance Project.
Morsy also touched upon other topics during his visit Saturday. He said corruption in Egypt was deeply rooted, and that "Egypt needs about 10 years to rise up and be a strong leading state in the region."
He also said that the condition of the armed forces was stable, and that the police were on the path of reform and stability, as "great efforts are being made to restore security."
Morsy canceled a planned visit to his hometown, Adawy village, fearing that security measures could affect relations with village residents.
Edited translation from Al-Masry Al-Youm