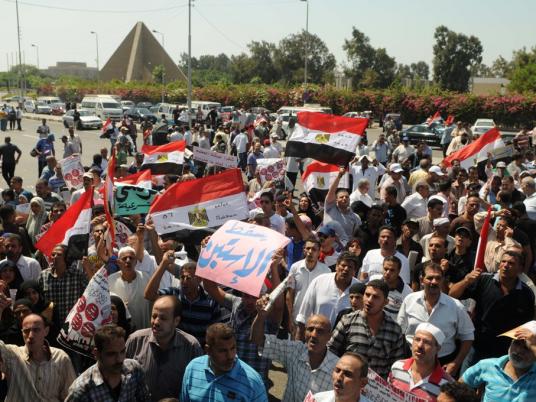 Pro-military protesters who were demonstrating today in front of the Tomb of the Unknown Soldier in Nasr City announced an open-ended sit-in there until the fall of President Mohamed Morsy and the cancellation of the Constitution.
In a statement distributed Friday evening, the protesters also demanded the dismissal of the prosecutor general, and called on the army and the police to protect the nation and the people "against the high treason of the Muslim Brotherhood."
Earlier in the day, a march of dozens led by prominent journalist Mostafa Bakry, who is rumored to have close ties to the army, arrived at the memorial.
Also Friday afternoon, dozens blocked the main road in Nasr City to show support for the Armed Forces.
Speaking from a stage erected by the demonstrators, one protesters said, "Egypt has only had two presidents: Gamal Abdel Nasser and Mohamed Anwar al-Sadat." Other protesters objected to his words, calling on him to include former President Hosni Mubarak as well.
Pro-military forces called for the mass demonstration against the "Brotherhoodization" of the military in front of the Tomb of the Unknown Soldier in Nasr City.
Notable public figures including former Supreme Constitutional Court Vice President Tahani al-Gebali and Tawfiq Okasha have said they would be present.
Participating political forces include the Silent Majority Movement, the Military Retirees Coalition, the Egyptian Revolution Union, the Maspero Youth Union and the Federation of Trade Unions.
Protesters also plan to march to the Ettehadiya Presidential Palace and the Ministry of Defense to call on the military to take the reins of the country, restore national security and then transfer power to elected civilians.
Gebali told Al-Masry Al-Youm that the protest is a call to keep the military free of Brotherhood influence so that President Mohamed Morsy's government can't use the Armed Forces as a tool to attack peaceful protesters.
"The military has other duties. It shouldn't respond to pressure from the Brotherhood to open the tunnels to Gaza and let them implement their schemes in Sinai," she said.
She added that today's protests call on the military to preserve national security, not completely take over power.
Edited translation from Al-Masry Al-Youm