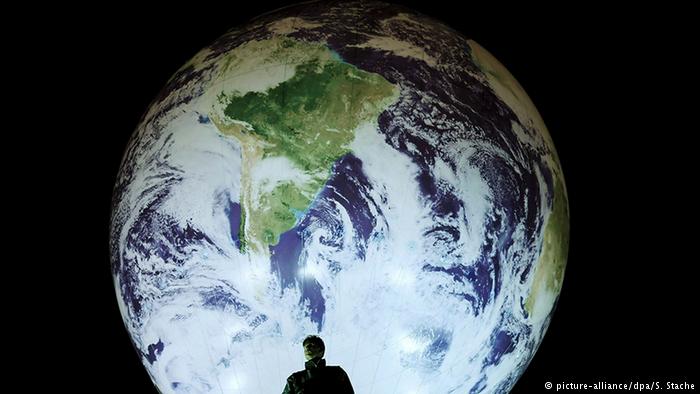 Our planet has failed its annual physical — global warming is melting the poles, heating up oceans, making sea levels rise and contributing to extreme weather, an NOAA report has confirmed.
Last year was the third-warmest since record-taking began, the National Oceanic and Atmospheric Administration (NOAA) said Wednesday.
In its 28th annual State of the Climate report, published by the American Meteorological Society, the US agency confirmed findings from a meta-analysis in January of this year that the last three years — 2015, 2016 and 2017 — have been the hottest ever.
"The four warmest years on record have occurred since 2014," editors of the NOAA report wrote in an accompanying executive summary.
NASA had ranked 2017 as the second-warmest on record, while the NOAA and the Japan Meteorological Agency put it as third-warmest; this divergence is due to differing methodologies.
The year 2017 was the warmest non-El Nino year on record, the NOAA report noted.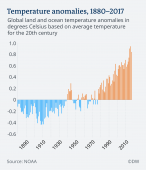 The report also highlighted how the current CO2 concentration in the atmosphere — 405 parts per million — is the highest it has been in 38-years of record-taking, also higher than ice-core samples dating back 800,000 years.
"The global growth rate of carbon dioxide has nearly quadrupled since the early 1960s," the summary stated.
Atmospheric concentrations of the greenhouse gases methane and nitrous oxide were also at a record-high last year, according to the report.
With regard to the north and south poles, which are warming faster than the rest of the planet, the Arctic saw its smallest annual maximum reach in 2017, while in Antarctica, overall sea ice was well below the average of the past several decades.
Also, the global average sea level rise increased to a new record high, at 7.7 centimeters (3 inches) above the average from 1993, which is when satellite altimetry started.
The average sea surface temperature in 2017 was above that of 2016, continuing a clear long-term upward trend. The report also pointed out unprecedented multi-year bleaching of corals, with mass bleaching set to further accelerate as oceans warm.
The report pointed out a wide swing of rainfall extremes, with some regions experiencing remarkable rainfall and others extended drought.
It also reiterated that in the United States, 16 disasters resulted in more than $300 billion in direct losses in 2017, making it the costliest year since at least 1980.
In 2017, US President Donald Trump announced the country would pull out of the 2015 Paris Agreement,  a global framework intended to limit global warming to maximum 2 degrees Celsius (3.6 degrees Fahrenheit). The US is the only country in the world to not be a party to the landmark agreement.
The annual report runs more than 300 pages long and includes the contributions of 500 researchers from 65 countries.