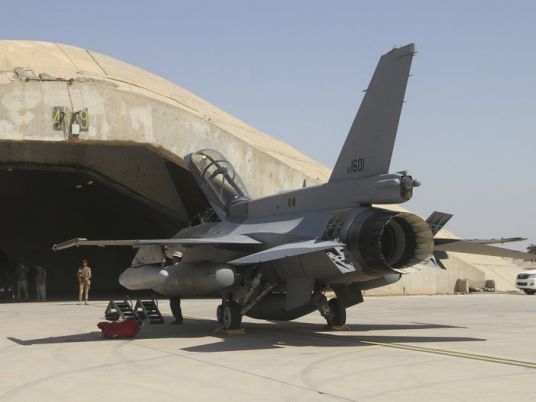 An embattled US contractor, accused of failing to promptly disclose sex trafficking, alcohol smuggling and security violations on a nearly $700 million contract to secure an Iraqi air base, is denying many of the charges. An attorney for investigators, who were fired by the company, says the explanations don't stand up.
Revelations of the allegations, published Wednesday by The Associated Press, were based on documents and interviews with the investigators, whom the company dismissed in March, and multiple other former employees.
The company, Sallyport Global, is responsible for securing the F-16 fighter jets at Balad Air Base that are used by the Iraqi air force in efforts to uproot the Islamic State group.
The company first called allegations that managers had shut down sex trafficking investigations "absurd" but later acknowledged that senior management had opened a second probe months later.
They say the late push to determine whether employees were involved in prostitution, was the initiative of new managers, including a new corporate ethics and compliance officer.
"The new company management would never shut down an internal investigation into serious allegations like prostitution," Chief Operating Officer Matt Stuckart wrote in a statement.
The company contends the second probe found all the allegations of prostitution on the base were unfounded. But the fired investigators and an attorney representing them, Debra Katz, said their attempts to interview key suspects involved in the first case were again blocked by managers.
According to the investigators' original report in February 2016, four Ethiopian women who were suspected of working at a hotel in Baghdad as prostitutes moved to the base after customers at the hotel complained about contracting sexually transmitted diseases. Those customers included Sallyport employees, the investigators said
The original report also listed the first names of the women and the going price for four hours of sex: $200 for the women and $300 for their pimp.
The company also denies allegations by the investigators that its lawyers ordered them to keep two sets of files in order to hide some of the investigators' information from the US government, which was footing the bill for the company's contract.
"The investigators were specifically told to continue keeping a log, available to the US government, of every investigation but not to include any attorney-client privilege information on that log – a standard practice," Stuckert said.
But attorney Katz disagreed.
"They were explicitly told to keep double books," she said. "There is no argument of attorney-client privilege that could justify the orders."
Based in Reston, Virginia, Sallyport was founded in 2003 to work in Iraq on reconstruction, and has since expanded its operations globally. Some of Sallyport's top managers joined the company after stints with other military contractors active in Iraq.
Sallyport president and CEO Victor Esposito previously worked at Blackwater Worldwide, a private military company. He then became the chief operating officer of Xe, as Blackwater renamed itself after its employees shot scores of unarmed Iraq civilians in 2007 at a Baghdad traffic circle. Jeff Morin, who worked as a Sallyport director until this week, also previously worked for Blackwater.
Twice in 2013 the company was sued by former employees.
In 2013, a US Air Force veteran sued the company for negligence in federal court in Virginia, alleging he was severely beaten by his supervisor during a drunken card game at an air base in Iraq. Sallyport's lawyers successfully argued that the veteran had no standing in US court for events that occurred in Iraq. The lawsuit was dismissed.
Also that year, another ex-Sallyport employee sued the company alleging she was racially discriminated against and wrongfully terminated over drinking alcohol at a base in Qatar. While she denied she drank on the job, in her lawsuit Eboney Mayfield alleged that other Sallyport employees routinely drank on duty and weren't punished.
After a judge denied the company's request to dismiss the case, Mayfield's lawyers agreed to voluntarily drop it prior to trial, indicating the parties likely reached a settlement.