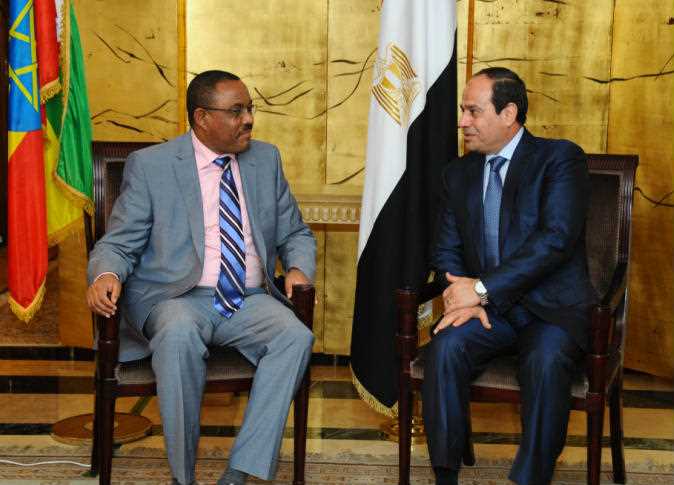 Ethiopian Prime Minister Hailemariam Desalegn asserted on Thursday morning that his country will not put Egyptians life at risk, as the crisis between Egypt, Ethiopia, and Sudan escalated, assuring that the River Nile will continue to flow between the two countries.
"We will never cause any harm to Egypt, we will do our best to guarantee decent life to the sons of the Nile River, my country is ready to put end to all the problems between the two countries," Desalegn stated at the Presidential Palace in Itahdyia.
Desalegn's statements came at a press conference between him and Egyptian President Abdel Fattah al-Sisi, held following discussions between both leaders during Desalegn's official visit to Egypt which began on Thursday morning.
He added that the Ethiopian Grand Renaissance Dam (GERD) will not cause any harm to any entity, highlighting that the River Nile will not be a matter of dispute between the two countries and that his country understands how the Nile is a source of life for Egypt.
Sisi, meanwhile, said he expressed concern to Desalegn regarding the deadlock between Egypt, Sudan, and Ethiopia, and their technical study of GERD.
"The continuity of the technical studies of GERD between the three countries is a necessity. Egypt is suggesting the participation of the World Bank at the tripartite discussions on GERD, and the World Bank will be a neutral [actor]," Sisi said.
He further noted that there were ongoing discussions with Desalegn to enhance the economic co-operation between the two countries, with Egyptian businesses pursuing investment in Ethiopia.
"We are seeking to establish an Egyptian industrial zone inside Ethiopia," Sisi said.
Ethiopian Prime Minister Desalegn arrived on Thursday morning in an official visit to Egypt to discuss the bilateral relations between the two countries, in addition to discussing the GERD crisis and the deadlock in discussions between Egypt, Sudan, and Ethiopia.
Egypt's Foreign Minister Sameh Shoukry met with the Ethiopian Prime Minister at the end of December during his visit to the Ethiopian capital Addis Ababa to follow up on bilateral relations between the two countries, prepare for the Ethiopian Prime Minister's visit to Egypt, and to discuss the course of the GERD negotiations.