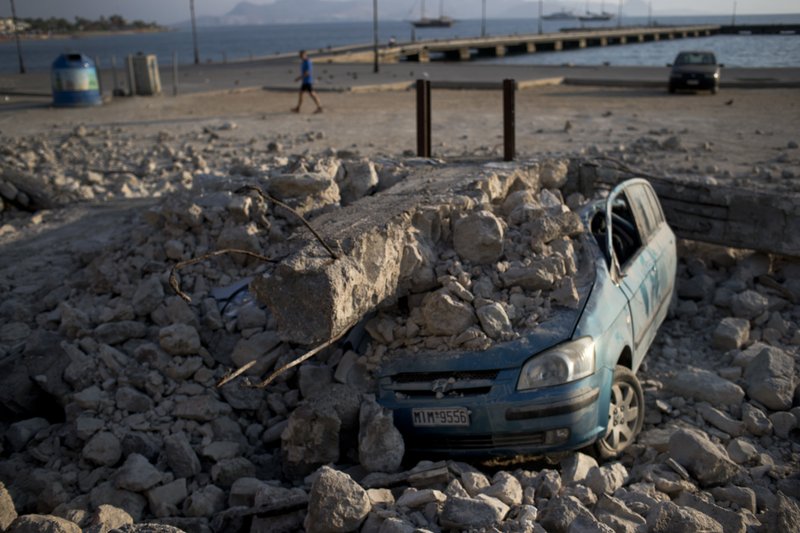 A massive but weakened Hurricane Irma zeroed in on the Tampa Bay region early Monday after hammering much of Florida with roof-ripping winds, gushing floodwaters and widespread power outages.
Irma continued its slog north along Florida's western coast having blazed a path of unknown destruction. With communication cut to some of the Florida Keys, where Irma made landfall Sunday, and rough conditions persisting across the peninsula, many held their breath for what daylight might reveal.
The monster storm measured more than 400 miles (640 kilometers) wide, and its winds of up to 130 mph (210 kph) sucked the ocean water out of bays, swamped much of downtown Miami and toppled at least three constructions cranes — two over downtown Miami and one in Fort Lauderdale.
More than 3.3 million homes and businesses across the state lost power, and utility officials said it will take weeks to restore electricity to everyone.
Irma's center was about 25 miles (40 kilometers) northeast of the heavily populated Tampa-St. Petersburg area early Monday, though in a much-weakened state. While it arrived in Florida a Category 4 hurricane, it was down to a Category 1 with winds of 85 mph (135 kph). Meanwhile, more than 160,000 people waited in shelters statewide.
There were no immediate reports of deaths in Florida. In the Caribbean, at least 24 were people were killed during Irma's destructive trek across exclusive islands known as the vacation playground for the rich. In Cuba, the storm swamped Havana's iconic seawall, pushing water nearly a third of a mile (half a kilometer) inland.
In one of the largest US evacuations, nearly 7 million people in the Southeast were warned to seek shelter elsewhere, including 6.4 million in Florida alone. Upon leaving Florida, a weakened Irma is expected to push into Georgia, Alabama, Mississippi, Tennessee and beyond. A tropical storm warning was issued for the first time ever in Atlanta, where many schools canceled classes because of the storm.
Bryan Koon, Florida's emergency management director, said late Sunday that authorities had only scattered information about the storm's toll.
"I've not heard of catastrophic damage. It doesn't mean it doesn't exist. It means it hasn't gotten to us yet," Koon said.
In the low-lying Keys, where a storm surge of over 10 feet (3 meters) was recorded, appliances and furniture were seen floating away, and Monroe County spokeswoman Cammy Clark said the ocean waters were filled with navigation hazards, including sunken boats.
The county administrator, Roman Gastesi, said crews would begin house-to-house searches Monday morning to check on survivors. And an airborne relief mission, led by C-130 military cargo planes, was gearing up to bring emergency supplies to the Keys.
Storm surge and tornadoes were two big concerns. The National Hurricane Center said a federal tide gauge in Naples reported a 7-foot (more than 2-meter) rise in water levels in just 90 minutes late Sunday. And an apparent tornado spun off by Irma destroyed six mobile homes in Palm Bay, midway up the Atlantic coast. Flooding was reported along Interstate 4, which cuts across Florida's midsection.
In Miami, a woman who went into labor and was guided through delivery by phone when authorities couldn't reach her because of high winds and street flooding. Emergency crews later took her to the hospital.
Curfews were imposed overnight in Miami, Tampa, Fort Lauderdale and much of the rest of South Florida, and some arrests of violators were reported. Miami Beach barred outsiders from the island.
Fort Lauderdale police arrested nine people they said were caught on TV cameras looting sneakers and other items from a sporting goods store and a pawn shop during the hurricane.
About 30,000 people heeded orders to leave the Keys as the storm closed in, but an untold number refused, in part because, to many storm-hardened residents, staying behind in the face of danger is a point of pride.
John Huston, who stayed in his Key Largo home, watched his yard flood even before the arrival of high tide.
"Small boats floating down the street next to furniture and refrigerators. Very noisy," he said by text message. "Shingles are coming off."
Irma made landfall just after 9 a.m. Sunday at Cudjoe Key, about 20 miles (32 kilometers) outside Key West. On Sunday afternoon, it rounded Florida's southwestern corner and hugged the coast closely as it pushed toward Naples, Sanibel, Fort Myers and, beyond that, Sarasota.
Gretchen Blee, who moved with her husband to Naples from Long Island, New York, after Superstorm Sandy in 2012 heavily damaged their beach home, took cover in a hotel room as Irma raged.
"I said, 'Let's go and live the good life in paradise'," she said. "And here we are."
Some 400 miles (640 kilometers) north of the Keys, people in the Tampa-St. Petersburg area feared a first direct hit from a major hurricane since 1921. But the storm weakened to a Category 2 approaching that area.
"I've been here with other storms, other hurricanes. But this one scares me," Sally Carlson said as she snapped photos of the waves crashing against boats in St. Petersburg. "Let's just say a prayer we hope we make it through."
Along the Gulf Coast, two manatees became stranded after Irma sucked water out of Sarasota Bay, in Florida's Manatee County. Several people posted photos of the mammals on Facebook amid reports rescuers later dragged them to deeper water.
President Donald Trump approved a disaster declaration for Florida, opening the way for federal aid. And Florida's governor activated all 7,000 members of the Florida National Guard, and 10,000 guardsmen from elsewhere were being deployed.
Irma once was the most powerful hurricane ever recorded in the open Atlantic, a Category 5 with a peak wind speed of 185 mph (300 kph). For days, forecasters had warned Irma was taking dead aim at the Miami area and the rest of Florida's Atlantic coast. But then Irma made a westward shift and lost some of its punch while crossing Cuba's northern coast — just before a crucial turn into Florida's Gulf Coast.