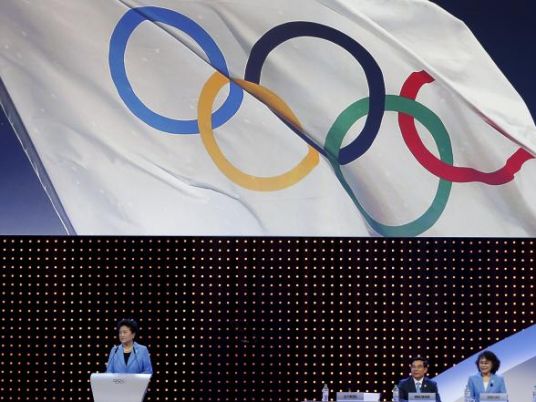 Sporting champions always have a story to tell the coming generations, a story that can be taken as an example and an inspiration. A few days ago, the Egyptian weightlifter, Sara Ahmed became one of those storytellers.
After pouring huge effort into her preparation and performance, Ahmed was rewarded as the first Egyptian woman to ascend the three-tiered rostrum to receive an Olympic medal in weightlifting.
Technically, Abeer Abdel Rahman was the first Egyptian woman to win a medal in weightlifting, having taken the silver medal for the 75kg event in the 2012 London Olympics. But she was awarded the medal in 2016 after the Olympic Committee disqualified the initial first three winners for doping.
Al-Masry Al-Youm met with the 18-year-old Ahmed in Rio de Janeiro to talk about her victory.
AMAY: How do you feel after winning an Olympic bronze medal?
Ahmed: Elated, of course. It's a breakthrough on all levels, and I've dreamt of this since I was a little girl.
AMAY: Is there anyone you want to dedicate your medal to?
Ahmed: Egypt as a whole, and my family for their patience throughout my training.
AMAY: Were you expecting to win a medal?
Ahmed: At first I was terrified when I entered the arena to seean audience full of eyes watching me, but I focused on the lifting and blinkered out the audience – especially as most of them were supporting my Colombian competitor. When the lifting began, I started to relax. Praise God, I ended the snatch in the third place, and became determined to see it through to the end. I told myself, "Just one hour, and my effort will pay off!"
AMAY: Was there any point when you felt you might not make it?
Ahmed: When my Colombian competitor lifted 140KG, she put me under pressure to lift 143. But I felt the prospect of a medal coming closer. My whole life flashed before my eyes, andI thought of my mother. Fourth place is a serious achievement in the Olympic Games, but a medal tastes sweeter.
AMAY: Who was the first person to congratulate you from Egypt?
Ahmed: My Mum (my Dad passed away a year ago). My neighbors in Ismailia also telephoned me. I can truly say I want nothing more from life than to bring people the joy of a victory and feel loved because of it.
AMAY: You met Sports Minister KhaledAbd el-Aziz, we hear. What did he say to you?
Ahmed: I met the minister in the Olympic village a day before the game and I asked him if he would be attending my snatch. He replied, "I will come and celebrated you winning," and afterwards we were able to laugh about it
AMAY: You are the first Egyptian weightlifter to ascend the rostrum to receive an Olympic medal – how do you feel about this?
Ahmed: I feel proud, of course, but I'm not satisfied with bronze, and in the next Olympics, I hope to get gold.
AMAY: What did your mother say afterwards?
Ahmed: She was very happy, and I received several calls from relatives and they are all happy for me.
AMAY: What stage of your studies are you at?
Ahmed: I'm in High School, and I dropped out of myexams this year to prepare for the Olympics.
AMAY: Do you regret dropping out?
Ahmed: No, I'm totally confident about the decision, but I wish the education officials had understood the circumstances better. I asked the Egyptian Weightlifting Union to askthe Education Ministry to let me defer, but they refused. I hear that countries all over the world make exceptions for Olympic champions. I represent Egypt and I'm keen achieving medals as well as academic results, and I want the Education Minister to stand by me.
AMAY: If you have to choose between weightlifting and education, which one do you prefer?
Ahmed: Weightlifting, of course. I made that choice a while ago.
AMAY: What do you say to the opinion that weightlifting is an inappropriate sport for girls?
Ahmed: Any sport is appropriate for girls. I'm engaged to the weightlifter Ragab Abd el-Hai. We used to disagree on this point, but my medal reconciled us!
AMAY: What will you do with the LE500,000 reward from the Sports Ministry?
Ahmed: I don't know – it's a lot of money. I'll be discussing that with my Mum.
AMAY: The whole of Egypt is talking about you – how does that feel?
Ahmed: It certainly makes me happy – I've gained the fame of a football player – but at the same time I want to use the platform to tell the officials that Egypt is full of talent, but these people need support. With more support, Egypt would be able to compete for more than one medal.
AMAY: What about your future plans?
Ahmed: I will take some time to celebrate, then I'll get back to training. This bronze is just the beginning.
AMAY: Is there anything else you'd like to say?
Ahmed: I hope I get to meet President Abdel Fattah al-Sisi when I get back to Cairo – that would be a massive honor for me.
Edited translation from Al-Masry Al-Youm