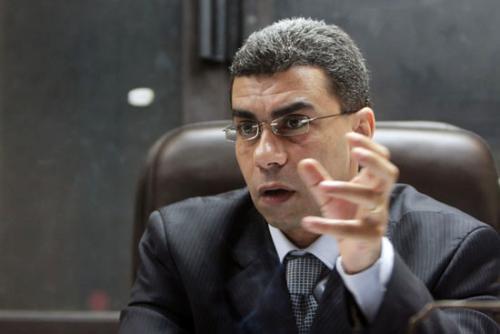 Yasser Rizq, the former editor-in-chief of Al-Akhbar, is leaving the state-owned paper to take over at Egypt Independent's sister paper Al-Masry Al-Youm.
Board member Salah Diab and interim Executive Chief Editor Mohamed Samir announced Wednesday that Rizq would be the new editor-in-chief of the the independent newspaper.
The news comes five months after the departure of Editor-in-Chief Magdy Al-Gallad, during which time Samir served in his place.
After the announcement, Rizq expressed his joy in joining Al-Masry Al-Youm. He thanked Samir, saying he "bore a great burden in a very difficult period and proved [his] efficiency and ability."
Rizq was appointed editor-in-chief of Al-Akhbar by a decree from then-Shura Council Speaker Safwat al-Sherif and served at the paper's helm from 18 January 2011 until 8 August of the same year. He was replaced by Mohamed Hassan al-Banna.
Before becoming editor-in-chief of Al-Akhbar, he worked as the chief editor of Radio and Television magazine, and had previously worked at Al-Akhbar for over 30 years.
Rizq said that he is proud of his tenure at Al-Akhbar, adding that he is also proud to join Al-Masry Al-Youm, which he considers "an objective non-biased newspaper, that only sides with freedom, democracy and civil and human rights."
Diab welcomed Rizq, praising his previous work at Al–Akhbar and the Radio and Television magazine.
Edited translation from Al-Masry Al-Youm