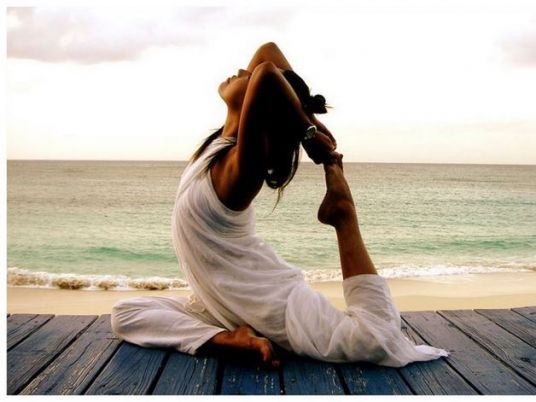 After eight weeks of yoga classes improved the symptoms of patients with one of two common forms of the disease — in addition to lifting their mood — a new study concluded that the practice is safe and effective for those living with arthritis.
"Yoga may be especially well suited to people with arthritis because it combines physical activity with potent stress management and relaxation techniques, and focuses on respecting limitations that can change from day to day," says Susan J. Bartlett of Johns Hopkins University in the US.
Thought to be the largest randomized trial ever to explore yoga's effect on arthritis patients, the research team recruited 75 participants, all of whom had either knee osteoarthritis or rheumatoid arthritis.
They were randomly assigned to either two séances of yoga per week for eight weeks, plus an Om session for practice once a week in the home, or to a waiting list, which served as the control group.
Researchers who were left unaware as to which group the participants belonged assessed their physical and mental health regularly.
Those who practiced yoga demonstrated a 20 percent improvement over the control group in pain, energy levels, mood and physical function, reporting being better able to perform physical tasks at work and at home.
What's more, they were able to walk faster than those in the control group, although balance and upper body strength remained unchanged between the two groups.
Nine months after the relatively short program ended, the yogis' improvements were still apparent, according to the study, which was published in The Journal of Rheumatology.
The study was developed by Clifton O. Bingham III, MD, and director of the Johns Hopkins Arthritis Center, who says watching arthritis patients improve by doing yoga gave him the idea to conduct a formal experiment.
Health professionals have questioned the safety of arthritic people practicing yoga, which emphasizes changing positions and flexibility that can be tough on tender joints, so participants were required to get the ok from their doctors prior to the study.
"Our first step was to ensure that yoga was a reasonable and safe option for people with arthritis," says Bingham. "Our instructors were experienced yoga therapists with additional training to modify poses to accommodate individual abilities."
Working with data from their study, the researchers developed guidelines to help doctors decide whether yoga is right for their arthritic patients.
Bingham advises anyone with arthritis to address the specific joints of concern with their doctor before starting yoga and, importantly, find the right guru.
"Find a teacher who asks the right questions about limitations and works closely with you as an individual," he says. "Start with gentle yoga classes. Practice acceptance of where you are and what your body can do on any given day."