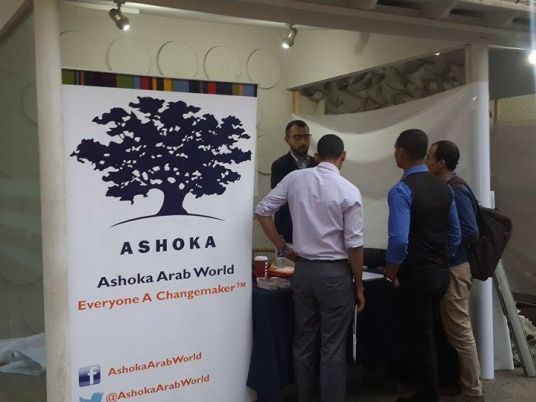 Egypt's future entrepreneurs gathered Friday earlier this month for a rare chance to connect, collaborate and nurture their dreams in a workshop entitled "Innovation and Creativity in the Workplace."
"Look at you all – here on a Friday afternoon; not out smoking shisha in a café somewhere, but focused on your future," jokes Ashoka Arab World Fellow Amani el Tunsi with the roomful of workshop participants. Everyone laughs, but the humor belies a serious undertone to the dialogue of the day.
Youth unemployment remains a major challenge in Egypt, with a CAPMAS report released in November 2013 indicating that national unemployment has reached 13.4 percent of the total Egyptian workforce, with youth comprising 70.8 percent of that figure. Many young people dream of having the opportunity to work for an organization that offers them the chance to contribute to something they see as worthwhile while simultaneously being creative in accomplishing their daily tasks.
Egypt's burgeoning interest in entrepreneurship, evidenced by the growing number of start-ups that have sprung up in recent years and the heavy subscription to business accelerator and incubator programs, has deeper roots than making money. Many young Egyptians say they want to contribute to initiatives that have a positive social impact, while others want to express their individuality and their ability to incorporate creativity and passion into their daily work.
The workshop, part of the third Youth to Business Forum event to take place in Egypt, was a collaborative project between Ashoka and AIESEC, was aimed at providing young Egyptians with the tools they need to network, learn more about social entrepreneurship and how to bring about social change.
Tunsi and Ashoka Arab World Compatriot and Fellow Mohamed Zaazoue partnered with AAW Development Officer Vojislav Bajic and other members of the AAW team to lead the workshop.
With an emphasis on using innovation for social impact, Ashoka prizes creativity within the workplace itself. As Vojislav observes when addressing the roomful of students, "to help innovative people, you have to be innovative yourself."Both Amani and Zaazoue spoke to students about how to use creative approaches in their methodology and in their working spaces.
Amani founded and runs Banat we Bas, a radio station with regional scope that empowers women to speak out about issues that they have traditionally had no space to discuss openly; Zaazoue is the founder of Healthy Egyptians, an NGO that empowers citizens to seek health information and educate themselves about how to become and remain healthy.
Zaazoue, who seeks to connect with a population unfamiliar with taking responsibility for its own health decisions and deeply reliant on medical professionals to offer advice and direction on all aspects of healthcare, has developed a series of ways to engage the interest and attention of his beneficiaries. His health messages are disseminated through cartoon books, puppet shows and a TV show called "Montasser Yantassir" (Montasser Overcomes), in which a young boy, Montasser, learns to overcome the various health risks he faces through adopting healthier behavior patterns.
What differentiates a social entrepreneur from a traditional development worker is the emphasis they place on entrepreneurial qualities such as risk-taking, their use of creativity to generate support for their work, their dedication to carving out their own space in their area of focus. Zaazoue emphasizes the need to continually seek new ways to achieve defined goals: "We need to be responsive to the market; we need to think like entrepreneurs." Currently, he is pursuing a way of using gaming to disseminate social messages. "Imagine if Candy Crush could be used to deliver the message that sweets and sugar are harmful. People would absorb this message without even realizing it because they would be having fun playing the game – this is how we can educate and engage more and more people."
Amani's discussion of her work begins with a personal story about a time several years ago where she as a passer-by intervened when she saw a man hitting his wife. Fleeing with the woman, she was outraged to hear her describe this behavior as "normal" and decided there and then that she needed to create a space in which women could talk safely and openly about experiences they faced in a broadly male-dominated society, which could range from sexual harassment to marital difficulties, divorce, spinsterhood, drug addiction, work-related issues, body insecurities or concerns about their children.
With a background in media, many of the conceptual and practical aspects of establishing a radio station were not new or difficult for her, but she did face challenges when it came to generating interest among donors – mainly due to the controversial or taboo nature of some of the topics raised on her program. It was only through sheer tenacity and commitment and by using creative techniques to engage with a cross-section of listeners and to market the goals and nature of her work that she managed to increase the scope of what she was doing, attracting some 5 million listeners after four years.
Zaazoue envisages the Healthy Egyptians workplace as a physical space for creativity, likening it to the computer game Minecraft, where you as a player can bend the rules of the computer-generated environment you are in so that you win the game. If you break a branch off a tree, for example, you can then turn it into a sword to battle monsters, a snake to attack an enemy or a rowing oar to cross a lake. Just like Minecraft, Zaazoue sees his workplace as one where "as long as you respect the system, you as an employee can do whatever you want."
For Amani as well, innovation is something that opens up opportunities for the individual, although she eschews any attempt to systematize her work environment. "He has a good system; I have no system" she observes. "Our space is very open – the girls come into the radio station and they do whatever they like. We don't have any employees; we are just one team. Everything is accessible to everyone and we don't even have any programs broadcast in English or in fus7a – everything is in 3ameya."
"A workplace can be dull or inspiring" echoes Vojislav. "I have had some external meetings in companies I expected to be highly innovative and found that after half an hour in some of these places I wanted to run away. You see people who obviously feel like little ants working desperately to achieve their monthly goals without any space for their creativity or individuality. I was frustrated after half an hour."
Mohamed Kabil, National Business Development Manager of AIESEC Egypt, expressed his excitement at being able to connect the Forum's attendees — aspiring leaders aged between 18 and 23 — with different representatives of the private and social sectors. "We were very happy with the Forum and the enthusiasm of all participants and we see this as a great step in the process of linking students with companies and with professionals, to generate more opportunities for young people, build their skill sets and boost employment," he said.