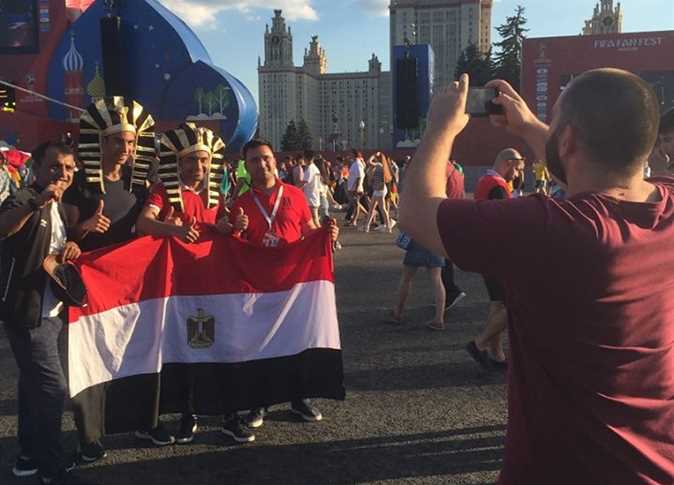 Four young Egyptians, driven by their love of football and desire to encourage the national team, traveled to Russia to attend the World Cup on their own expensive while also using their presence to promote Egyptian tourism.
Dressed as a Pharaoh, physician Hesham Reda and his friends stand outside the stadium while local Russians and foreigners alike come to take photos with them.
The young Egyptians hand out Pharonic souvenirs, making their visitors walk away feeling they carry a small part of ancient Egyptian civilization.
"The event was not planned like this. I was taking the pharaoh costume with me to Russia to wear it during Egypt matches, and I didn't know that the Russians will be willing to come to take photos with us," Hesham told Al-Masry Al-Youm.
"We spent 5-6 hours every day taking photos, which means that we at least took photos with 3,000 tourists," he added.
As for the Pharaonic gifts, Hesham said: "I was taking souvenirs with me to give out anyone I meet, and during the last couple of days in the journey I was giving them to the people coming to take photos with us. It was all cheap objects costing LE5 to LE6 each, but they admired them very much and they were happy with it. The gifts were pharaonic pens, pyramids, and a notebooks with pharaonic drawings on them."
Hesham posted a 30-minute video on his Facebook page showing the high level of interest this brought in, which gained a lot of views.
He stated that Egyptians vising Russia for the World Cup showed the world an honorable image of their country. While speaking to a group of foreigners, Hesham said that most of them expressed their admiration for Egypt, with some even saying they wanted to visit one day.
Edited translation from Al-Masry Al-Youm