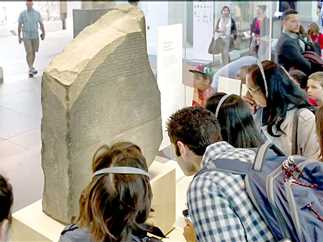 Egyptian Egyptologist Zahi Hawass, announced that the document through which he requests the return of the Rosetta Stone from the British Museum.
The Planetarium in the Louvre Museum has been published on his personal website DR.Hawass.com. as well as on his Facebook and Instagram accounts, and Change.org.
The document is ready to be signed by all lovers of the protection of Egyptian antiquities in Egypt and the  world over. 
Hawass added that the artifacts were placed under the Ministry of Antiquities before the 2011 revolution, in the Grand Egyptian Museum.
The return of these two antiquities to Egypt is an important recognition of the commitment of Western museums to end a form of colonialism of history and to provide compensation about this colonial past, he said.
The document will be sent to the British Museum and the Louvre after completion of signatures. 
The Rosetta Stone was discovered in July 1799, when an officer of the French expedition found it at Qaitbay Castle in the city of Rashid.
On September 27, 1822, the French archaeologist Jean-Francois Champollion was able to decipher the mystery of the stone and correctly read the ancient Egyptian signs, which resulted in the birth of Egyptology.