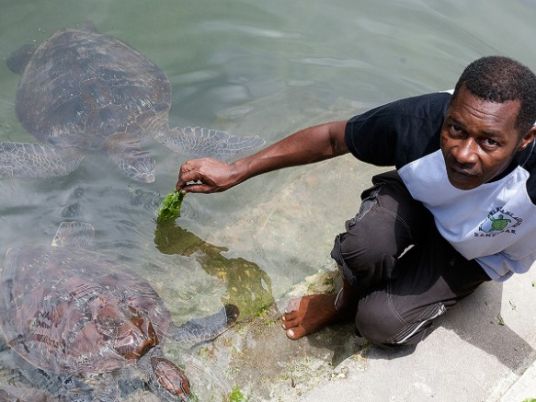 Pond Ali Hamadi discusses the sea turtles swimming toward him across the lagoon as a father would his children.
Arguably, he has every right to.
He's raised more of the creatures than he can remember for a new life in the Indian Ocean.
From a small corner of Nungwi Beach in Zanzibar, he and his team at Mnarani Marine Turtle Conservation Pond nurture newly hatched babies to adolescence and nurse rescued adults to good health.
But one of the hardest jobs has surely been convincing fishermen, in a country where poverty is a prominent reality, not to eat the stricken creatures or sell the shells of Hawksbill turtles caught in error.
"If the turtle is injured and bleeds it will attract sharks, but now they bring it to us," says Hamadi.
During our visit the sanctuary was hosting 15 green turtles and two Hawksbills alongside more than 20 babies hatched from salvaged eggs.
More arrive each May as eggs buried in a secured area of sand stir into life.
The infants are raised until they're mature enough to be set free.
"Every February we release them and it is a big day for us," says Hamadi.
He's worked at the community-based organization for 15 years.
"If the babies go by themselves to the sea, many are going to die, so if I get 100 eggs I know I have already saved 100 turtles."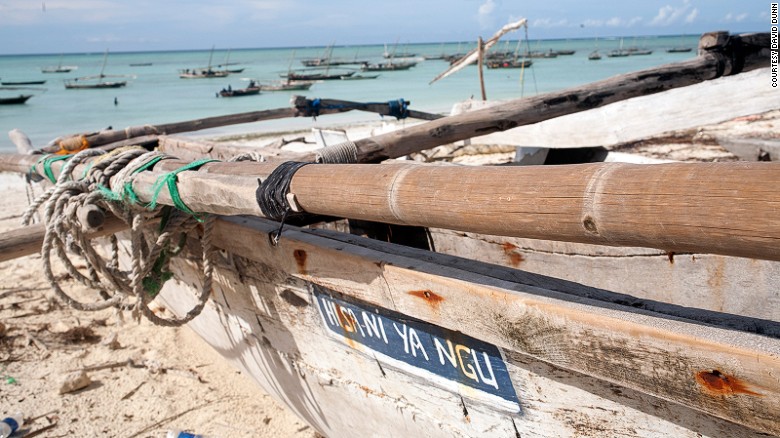 Turtle-friendly fishermen work along Zanzibar's Nungwi shoreline.
Pockets of poverty
With pockets of poverty close by it is, perhaps, astounding that such conservation flourishes.
The Nungwi shoreline reveals the same turtle-friendly fishermen maintaining boats and stitching nets ahead of a twilight excursion.
Further back carpenters are hand tooling two new dhows from mahogany.
"The tools are basic so it is hard work, but the skills are still passed from each generation," says our guide as a worker chisels away in the shade.
The guide also reveals some villagers will, in their lifetime, never venture as far as Zanzibar City, the capital, a 75-minute drive south.
That may not seem a bad thing as the azure sea changes color with the shifting light.
And, while existence does appear rugged and some homes crudely constructed, excited Swahili banter and laughter is never far away.
Sunset cruises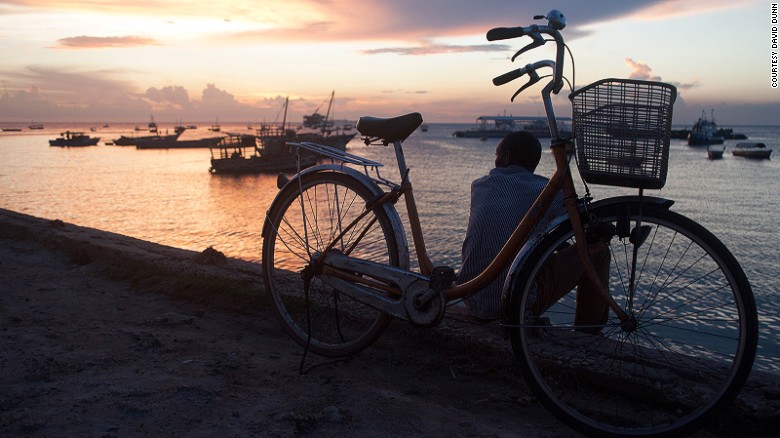 The sun sets in old Stone Town, a UNESCO World Heritage Site. The ancient quarter of Zanzibar City reflects its past as a trading hub between Asia and Africa.
Guests from nearby guesthouses and resorts are actively encouraged to take walks through the village, residents greeting them with "jambo" (hello) or "karibu" (welcome) as they pass.
Despite these tours, local fish traders and customers are still bemused that visitors should be interested in their routine transactions, although the Soko La Samaki market contribution box suggests they're no strangers to tourist cameras.
Further along the coast, bars and restaurants of varying sophistication punctuate the beach, poking into the sea on rocky outcrops at high tide.
In between, a steady stream of hawkers peddle everything from sunset cruises to carved wooden nameplates.
The Maasai markets are a slightly different affair.
Masaai markets can be found selling souvenirs on Zanzibar.
It seems strange to find these warriors and herdsmen, more readily associated with the Serengeti on the Tanzania mainland, touting souvenirs.
They use their distinctive appearance to good advantage; impressively ornate masks and carvings seem all the more tempting when accompanied by a chatty glimpse into this semi-nomadic culture.
Among the young Maasai talking Italian to some tourists, one older warrior with a broad smile and the unlikely name of Rocco reveals he's now too old to "fight lions" like some of his youthful contemporaries.
Scars on his face and body, alongside a scuffed wooden club, suggest it might not all be bravado.
A short boat ride from Stone Town, there are more protected reptiles on Changuu Island.
Among them is a 157-year-old giant tortoise that enjoys getting its neck rubbed.
It soon becomes apparent to the visitor these placid creatures enjoy pampering just like the rest of us.
Changuu was once destined to be a prison island but was instead used as a quarantine station for newcomers to the "spice islands," of which Zanzibar is a part.
Now the island is a sanctuary for endangered Aldabra tortoises.
The waters around their tiny home are clear and ideal for snorkeling.
Although much of the coral has seen better days it's fun trying to follow random clouds of striped fish.
Back across the strait, a stroll around the old Stone Town area of the capital reveals a city increasingly reliant on visitors but still geared around fishing and spice exports.
Tourism has been steadily growing in Zanzibar.
That's meant greater demand for the catch of the day — which can be viewed at frenetic and pungent markets — and tours of farms that grow cardamom, cinnamon, cloves, nutmeg and more.
Imposing wooden doors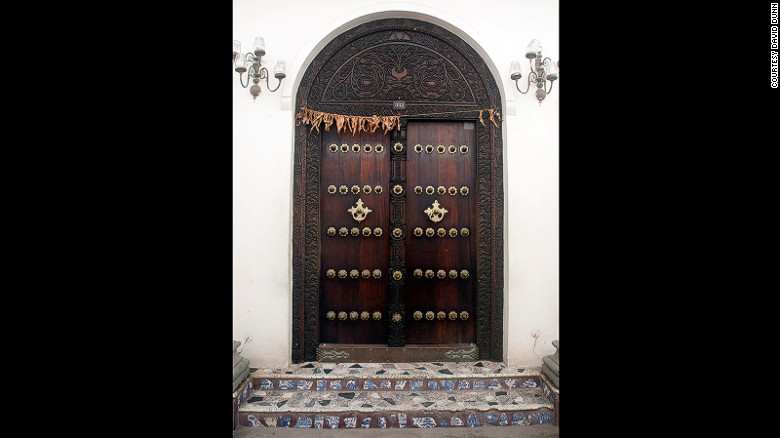 Many of the buildings in Stone Town are fronted by striking wooden doors. The doors enclose courtyards and boutique hotels laced with old-time charm.
There are also tours of the narrow streets and alleys that comprise the UNESCO World Heritage Site of old Stone Town.
The characteristic lime-washed architecture is well preserved in places, but collapses have claimed some of the weather-beaten frontages.
Many of the luckier buildings are fronted by imposing wooden doors, typical of the town and behind which lie enclosed courtyards and boutique hotels laced with old-time charm.
Every turn seems to present something for the lens, but privacy is valued so photographers are advised to ask before taking snapshots.
Much of Stone Town's appeal is derived from being a spectator to a life seemingly unchanged.
Ancient links with Oman, far to the north, extend beyond the Sultan's Palace museum overlooking the ocean to the outfits worn by many residents.
Some gather daily in the area's equivalent of London's Speakers' Corner where, strangely, a phone can be seen attached high up a central pole.
"You can make a call for free … if you can reach it," quips our guide.
His mood darkens as we enter an area that was once the slave market.
Mercury memories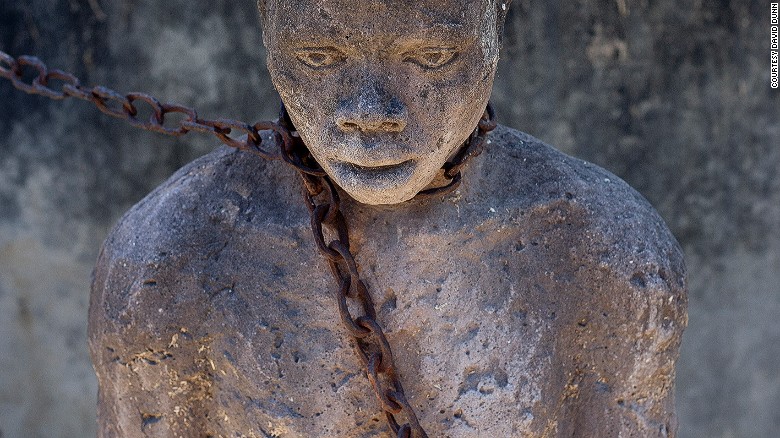 At the slave market, a memorial to those who suffered in crueler times depicts a person in shackles, cuffs and chains attached to a cellar floor.
A monument comprising people in shackles contrasts the excited cries of children at a neighboring school, as does the cuff and chain attached to a cellar floor that recreates the cruelty of an era that scars Zanzibar's history.
These days there's still hardship in the Tanzanian islands, where the average monthly wage is US$100.
A walk beside the beach leads to the ferry terminal, awash with fresh arrivals from the Tanzanian capital Dar es Salaam.
Along the way we pass clusters of cats, anticipating the opening of the Forodhani Gardens night food market, and find Mercury's Bar, overlooking fishing dhows.
This is one of a handful of places celebrating Stone Town's most famous son, Queen showman Freddie Mercury.
A photograph of Mercury (born Farrokh Bulsara) gazes down on the sundowner crowd, which in turn watches fishermen heave a boat ashore.
Later, recovered from the effort, the men celebrate their day with a vocal game of football.
It swiftly grows to 20-a-side mayhem on the sand while on the promenade beyond kids risk pride and limbs diving into a harbor silhouetted by a slowly melting sun.
David Dunn is a freelance writer and photographer currently based in Dubai. He was born in the UK where he worked for regional titles in news and features roles, including writing extensively about music, theater and travel.