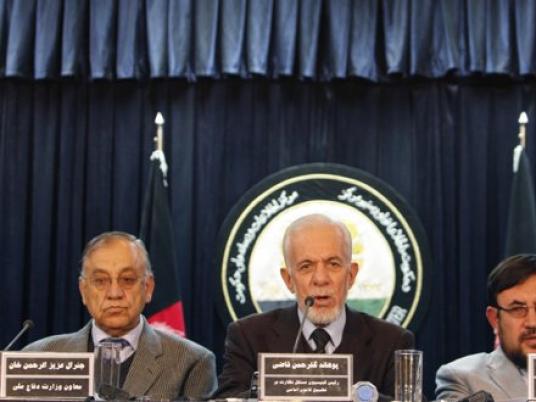 KABUL, Afghanistan — Afghan investigators accused the American military Saturday of abusing detainees at its main prison in the country, bolstering calls by President Hamid Karzai for the US to turn over control of the facility and complicating talks about America's future role in Afghanistan.
The investigators also called for any detainee held without evidence to be freed, putting the US and Afghan governments on a collision course in an issue that will decide the fate of hundreds of suspected Taliban and Al-Qaeda operatives captured by American forces and held indefinitely.
Karzai took Washington by surprise Thursday when he ordered that the US military turn over full control of the prison outside Bagram Air Base within one month, a seemingly impossible deadline given US security concerns about the prisoners and the Afghan government's weak administrative capacity. The countries had been working on phasing a transfer of responsibility of the prison, which hold 3,000 detainees, over two years.
The demand was the latest episode of political brinkmanship as negotiations continued for a Strategic Partnership Document with America that will determine the US role in Afghanistan after 2014, when most foreign troops are due to withdraw. Karzai has demanded an end to unpopular night raids by US troops and control over detainees as a condition of the pact and could be seeking leverage by pushing the detainee issue now.
Karzai spokesman Mohamed Sediq Amerkhil said Saturday that the president's remarks were a direct response to the investigation team's report of abuse and prolonged detentions.
The charges are reminiscent of allegations surrounding the US treatment of detainees at Guantanamo Bay, Cuba, where admitted September 11 mastermind Khalid Sheikh Mohamed is held.
Detainees interviewed during two visits to the US-run portion of the Parwan detention center outside Bagram Air Base — about 40km north of Kabul — complained of freezing cold, humiliating strip searches and being deprived of light, according to Gul Rahman Qazi, who led the investigation ordered by Karzai.
Another investigator, Sayyed Noorullah, said the prison and all detainees must be transferred to Afghan control "as soon as possible," adding, "if there is no evidence … they have the right to be freed."
US Embassy spokesman Gavin Sundwall said Saturday that American officials only recently received the commission's report. He said the US investigates all allegations of prisoner abuse.
"We will certainly take seriously the report and study it," he said. He added that the US is committed to working with the Afghan government on a joint plan to turn over detainees "in a responsible manner." He would not specify what time frame would be considered responsible.
Karzai's recent relationship with the US has been rocky, even though he came to power after the 2001 American-led intervention to drive the Taliban regime from power for sheltering Al-Qaeda. He has frequently lashed out at Washington, although he needs US military and financial strength to back his weak government as it battles the Taliban.
Last year, he accused the US and its allies of serving only their own purposes in the country, and has told a Pakistani television station he would support Pakistan in any war against the United States. In 2010, he was said to have threatened to join the Taliban if foreign donors pressured him too much.
The rhetoric is seen as a play for support from an Afghan population that resents the US presence and is angered by reports of Afghans detained indefinitely and of residents whose homes are invaded without warning. Less clear is exactly what Karzai hopes to gain from Washington with the politics of confrontation.
The Taliban seek to use anti-American resentment to discredit Karzai's government. On Friday, the insurgents mocked the president as a puppet of foreign powers in a statement that specifically mentioned Afghan detainees
"Ostensibly, he speaks of national sovereignty and of the welfare of people but practically, we see that there are thousands of Afghan detainees who have been suffering in the Bagram Air Base and other American bases now for years, and without a trial," the Taliban said.
The Parwan detention center was opened in 2009 to replace an older prison inside the base itself. The deaths of two Afghan prisoners at the previous facility in 2002 led to abuse charges against several American troops.
US and Afghan militaries jointly run the new facility. The Afghan side controls a section holding about 300 detainees whose cases are slated to be tried by Afghan judiciary, while US forces control the rest of the facility.
Qazi, who led the investigation run by the Independent Commission for Overseeing the Implementation of the Constitution, said US officials told him only the 300 detainees in the Afghan section had legal cases against them.
He said he was told that that 2,700 others in the American-run section were suspected Taliban members captured using classified intelligence and were considered a threat if freed.
Prison officials made it clear that many detainees had no evidence against them that would hold up in Afghan court, said Abdul Qader Adalatkhwa, the deputy leader of the investigation.
"So this is their concern," Adalatkhwa said. "That when they hand over the detainees to the Afghan side … most of these people might get freed."
Holding suspects without prosecuting them raises the risk that innocent people could be caught in limbo with no way to challenge their imprisonment, Qazi said.
He said the investigation team interviewed a 71-year-old man who claimed he had been beaten in detention and had no idea why he had been arrested. Another man told the team he was arrested after coalition forces found a cache of ammunition buried 400 meters away from his home and blamed him. He said the bullets weren't his, but he could not convince anyone.
The prison also holds Al-Qaeda and other terrorist suspects from several different countries captured in what the US considers battlefield conditions.
It's unclear what would happen to those foreign suspects if they were turned over to Afghan custody, but Adalatkhwa implied that they, too, might be released unless there is evidence to charge them with a crime.
"The legal procedures of Afghanistan would apply to them," Adalatkhwa said.