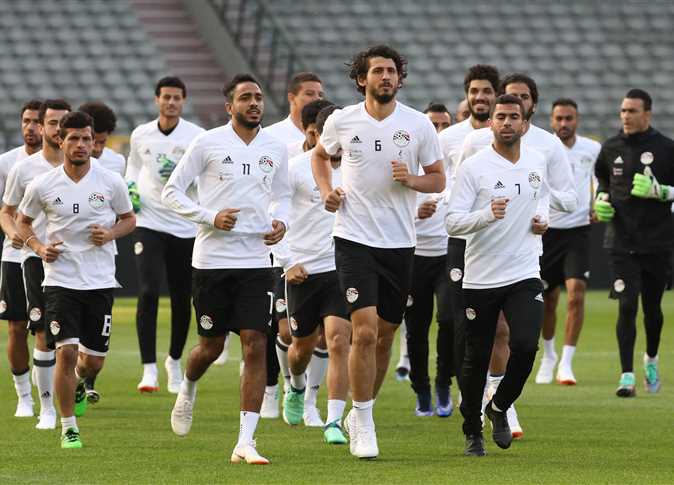 I wrote this article a week before it reached the reader and after our national team completed preparations for the Africa Cup of Nations, with two matches where the team looked fine and it seemed that winning the cup was possible, though not certain.
Now that the article has been published, the team has played one or two matches and so have the others, so all the nominations for the cup have tested assumptions about their strength, abilities, talent and temperament.
But the issue for Egypt isn't just in winning the cup, but in how we manage to organize the African Cup of Nations despite such a short period of preparation, and any adverse conditions that those opposed to the nation may try to take advantage of.
The success of this endeavor will grant Egypt great moral momentum, adding to the many positive indicators taking place recently, be they related to the economy and tourism in particular, and open up difficult issues and see a solution for them.
But this article isn't about these issues, it's about football, which may sometimes seem at the end to be just a game for the youth, or fanatics between supporters of one club and another.
In Egypt, fanaticism for Ahly and Zamalek no longer cuts it anymore, and Egypt's youth have taken to foreign clubs for their fanaticism.
Fortunately enough Mohamed Salah came into the scene, a skilled role model who helped alleviate this fanaticism, and now the choice isn't easy between Salah and Liverpool and the other European and international clubs.
Nearly three decades have passed since I wrote my first article about football on January 16, 1990, titled "Why do not we win the World Cup?".
At that time it had been about six decades since our last participation in the World Cup. That absence could no be longer be explained by lack of athletic skill, but there were other reasons such as state and society.
If we haven't won in the race between nations, why would football be an exception?
Football is a collective game that strongly expresses the essence and nature of societies and their ability to manage affairs to reach their "national" goals. And for a political writer, it can be as equally useful a laboratory as arts and literature in analyzing general matters.
At the time, the crux of the issue involved the players honorably representing the nation, regardless of whether or not Egypt actually won. It is true that those writers proved to be right, as our representation was honorable. And so twenty-eight years passed until we reached the World Cup again; and just like last time, we left the tournament after the first round.
It wasn't just an issue of lack of football skills, but also in ability to manage the race at the World Cup. The issue was much more complex than Mr. Cuper's defense wisdom. Even if a revolution happened with the formation of the team, composed of players from the local league and those playing in foreign clubs, wouldn't have benefited our race in the World Cup.
This issue has to do with organization and knowledge in how to run a race to win the World Cup.
Africa Cup of Nations this time contains something beyond a continental competition. We have the ability and determination to trust that we can host it on our homeland, just six months before the competition begins.
This is a sign we have learned from past lessons.
The Egyptian football team did not change much in fact. Cuper's team represented a generation of players rather than a personal choice, and those who were with him are still playing with Aguirre (Shenawy, Hegazi, Elneny, Hamed, Salah, Marwan and Warda).
I do not think that the issue has become an attack trend versus a defense trend. Whatever the coach is, the defense or attack plans are not necessarily determined by the coach but rather determined largely by the type of the opponent he is facing. The issue by the end is who will score more goals and win more tournaments.
In the previous tournament in Gabon, Egypt's team reached the final and lost by one goal. It was not only honorable but it was a source of pride, much of which was lost in Russia.
Now we are in another tournament, and perhaps because it's on our ground there's a benefit in the presence of the audience, for whom have have been out of the stadiums for much of the present decade due to multiple circumstances.
But the return to stadiums proves a test for the audience, state and the team, not only during matches but also outside them. Africa, like its football teams, has changed a lot, and we may have become much more aware of it.
Politically, we are closer to Africa than ever before since the 1960s and economically the links and trade are growing, especially as Africa's countries leave behind miserable decades of bloody civil wars and infectious epidemics, putting development on top of everyone's needs.
Africa entered the world race, not only when its players became stars in the world's major clubs and not only when me of them became stars in the national teams of more advanced countries such as France, but when they entered the race for progress from the widest doors.
The biggest countries of the world are flocking to Africa not for colonization or exploitation, but for stability and opportunities.
Egypt is in the chairmanship of the African Union, but in procedural terms it is a temporary task; the more permanent task is to rebalance Egypt's foreign orientations between the Middle East and Africa.
If we learn about Africa's football, clubs and players, then our knowledge of it economically, socially and culturally becomes a task not only for this present football tournament, where Africa is more familiar with Egypt than before, but it also opens doors to a wider relationship.
Africa is the continent of the future and our task now is to win the African Cup, there's a time and place for everything else!