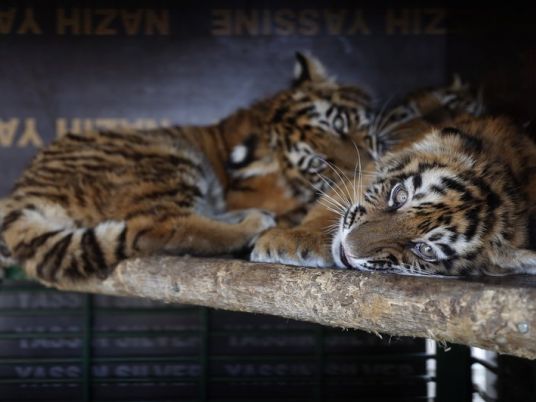 Alexandria's Nozha Zoo received 4,000 visitors from Alexandria and neighboring governorates on the first day of Eid al-Adha yesterday amid tight security measures aiming to provide a secure atmosphere for visitors to enjoy watching animals and spending time in green spaces.
Alaa al-Domiaty, general manager of the zoo, said that Alexandria Zoo received 4,000 visitors yesterday, generating a total of about LE20,000 revenues.
The manager pointed out that people preferred heading to beaches and attending family gatherings on the first day of Eid al-Adha, which decreased turnout at the zoo.
Domiaty told Al-Masry Al-Youm that the Natural History Museum was officially open to the public for the first time after its 12-year closure for rehabilitation work and restoration of mummies. The museum received about 180 visitors on the first day of Eid, generating a total of LE900.
Domiaty said that the heat of the sun is combated by bathing animals using water hoses. Old animals are provided with doses of vitamins and mineral salts to raise their immunity.
Ice boards are used to keep bears cool in case of high temperatures, he added.
A corner has been allocated for children at the zoo and the number of cafeteria outlets has been increased to avoid overcrowding.
Mohamed Metwally, Director General of the Islamic, Coptic and Jewish Antiquities Department in Alexandria and the North Coast, said that Qaitbay Citadel recorded an average number of visits during the first day of Eid al-Adha because citizens preferred family celebrations rather than visiting open sites and the Corniche on the first day of Eid.
Metwally added that tourism police have taken all necessary security measures at the citadel. Metwally said he supervised task forces to follow up on and facilitate the entry of visitors.
Edited translation from Al-Masry Al-Youm