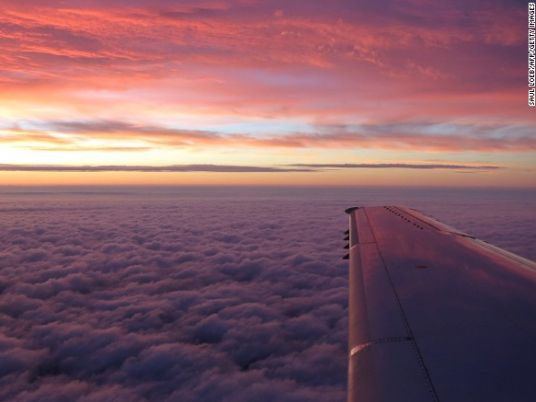 You might be reading this article on a smartphone that runs on a monthly data plan, after using your public transport pass to get you on the train that's now taking you to the airport.
The traveler next to you is watching a movie from a video-on-demand provider that charges an all-you-can-watch subscription fee.
Meanwhile, you've lost count of how many times you've flown so far this month.
And you don't even want to think about how much you've spent.
While technology and competition have driven many service-oriented businesses to move towards flat-fee price plans, airlines seem to have taken the opposite route.
They continue to refine the science of dynamic pricing, to the point that revenue management has become a cornerstone of the industry.
This has its good side too, since it allows airlines — particularly low-cost carriers — to price flights competitively when demand is low, but it also adds an element of uncertainty that can be quite taxing on those of us who routinely fly for work.
So would some travelers be willing to pay a flat-fee to forego the unpredictability of air fares and, possibly, save money in the process?
And would airlines be willing to offer such an option?
Some experiments but far from the mainstream
Airlines have, in fact, toyed with the idea of an all-you-can-fly ticket based on a fixed fare.
For example, American Airlines launched its AAirpass in the early 1980s.
It promised unlimited lifelong first-class travel across its network in exchange for a one-off $250,000 payment, a price tag that was revised upwards to $3 million in 2004.
The scheme seemed like an easy way to get up-front cash at the time but ended up being a drag on American Airlines' finances, since the handful of people who signed up turned out to make, understandably, extremely intensive use of their acquired privileges.
In 2009 JetBlue launched its All-You-Can-Jet fare, offering unlimited travel across its network for a set fee.
Later it launched BluePass, promising three months of unlimited flying on many of its routes, though with some rules.
The experiment was short-lived, though, and these fare options were discontinued shortly after launch.
Norwegian regional airline Wideroe has had a more successful experience with its "Explore Norway" ticket, which allows for two weeks of unlimited travel across its domestic network.
This flat-fee has a strong touristic flavor though, since it is only available during the summer months when business travel, which makes up the bulk of Wideroe's traffic throughout the rest of the year, slows down.
Other attempts to implement a flat-fee model have come from the executive aviation industry.
American operators Surfair, Beacon and Rise have made flat-fee pricing one of their distinctive features.
An interesting approach that, although designed to entice the uppermost segment of business passengers to switch to private flying, is still limited in its reach and potential impact in the broader airline industry.
Third party solutions?
Could it be that travelers are not ready to commit to one airline?
If that's the case, a solution could be here.
California-based startup OneGo offers a new service that allows fliers to travel as much as they want on any major U.S. airline for a set monthly fee plus a one-off sign up charge.
The idea to start OneGo came to founder Paulius Grigas out of frustration.
He realized he was devoting a significant share of time to sorting out his business travel arrangements, leading him on a quest to find a solution that could simplify the process.
OneGo offers four regional packages plus a nationwide fare.
The idea is that travelers pay a one-off $495 sign-up fee plus a monthly subscription that ranges from $1,500 for travel within the west coast region to $1,950 for other areas of the country.
A nationwide subscription costs $2,950.
Travel is all in economy class, however travelers get some extras such as lounge access and GoGo in-flight Wi-Fi.
In the future, OneGo expects to launch add-on options that would allow travelers to customize their experience.
What are the obstacles?
If there's a potential market niche, why aren't airlines rushing to introduce flat-fee schemes?
Sudeep Ghai of Athena Aviation, a UK-based consultancy firm specializing in the airline industry, says there's a risk this business model could oversimplify the customer experience.
An airline might end up charging some customers too much while giving too much away to others, and this would be economically inefficient, he says.
A lower risk approach would be to apply flat fees to some ancillary services, such as baggage allowances and legroom.
"Both are breakage plays in that not all customers will use their allowance, but perhaps more importantly they also lock in customer loyalty as customers need to fly the airline to realize the benefit," says Ghai.
According to Pere Suau-Sanchez of the Centre for Air Transport Management at Cranfield University, the "all-you-can-fly" model would make sense if designed in a way that it can attract new market segments, rather than cannibalizing existing traffic, the case of Wideroe being a perfect example.
"We are not after the main corporate types, our typical client would be an independent professional or small business owner that flies at least weekly but wishes to cap his travel expenses," says Grigas.
Is there a future for flat-fee fares in the airline industry?
Ultimately it might come down to whether the additional income brought in by increasingly sophisticated airline revenue management systems trumps the expected gains from strengthened loyalty and up-front cash flows the flat-fee model can provide.
Ghai adds that when it comes to offering all-you-can-fly fares, "airlines might fear that their customers will get smart and all customers will start using their allowance, but in a world of imperfect (albeit quickly improving) customer information that seems unlikely."