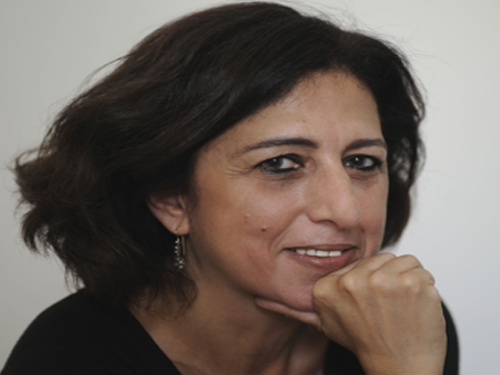 The 4th Panorama of the European Film kicks off Wednesday night, showcasing an exciting selection of 32 films that have been meticulously handpicked from international festivals.
Misr International Films,a production company founded by late Egyptian director Youssef Chahine, has organized the festival since its inception in 2004. The company's head, Marianne Khoury, has organized several experimental film events in Egypt. She speaks to Al-Masry Al-Youm about this year's edition as well as the prospects of the Egyptian film industry.
Al-Masry Al-Youm: How do you see the Panorama of the European Film showcasing reputable European films within a commercial market mostly dominated by Arab and American movies?
Marianne Khoury: Our policy is to work on achieving this difficult balance between producing quality work and attracting the attention of the mainstream film audience. In addition to the film festival, we are also reaching out through television. Last Ramadan we produced the "Shubra's Turn" TV drama to access a wide strata of viewers. This year, we are developing a drama adaptation of Sonallah Ibrahim's marvellous novel "Zat." We are preparing it for the 2012 Ramadan season, with screenwriter Mariam Naoum and director Kamla Abu Zikry.
Al-Masry: How do you see the potential for diversifying cinema production in Egypt?
Khoury: I think we need to stop seeing these genres as contradictory; it's always healthy to have commercial production beside unconventional styles and youth films. The latter in turn should be guaranteed better production and screening chances. And this is our focus.
We started this year "Misr Film Focus," an open call for youth projects. Several feature and documentary films have been selected and we are currently in the production phase. We are holding another workshop with the filmmakers in February, after which the screenplay would be ready for shooting, I hope.
Al-Masry: Is the international market more open to Egyptian films after 25 January?
Khoury: Well, I am positive that Egypt has become a hot topic since January. The world is looking highly at our productions and expecting a lot of productions from now on. However, I still see that only quality films could be exported and become competitive in the international market. Egyptian films will not be screened if they lack quality and value.
Al-Masry: What is new at the Panorama of the European Film this year?
Khoury: Well, our film selection has grown significantly this year, and we've managed to arrange with movie theaters to increase the number of screenings. We are also admitting 50 viewers for free everyday, particularly young viewers, filmmakers, students, critics and journalists.
Al-Masry: There also seem to be new focus areas.
Khoury: Yes, this year we are focusing on French cinema, screening six films including: "The Artist," for which Jean Dujardin won the Best Actor Award at the 2011 Cannes Film Festival. Other films in the French selection were either nominated or awarded prominent prizes in festivals in Cannes and Vancouver, as well as the Academy Awards and Golden Globe.
We are also very happy to keep the "Documentary Rendez-Vous" focus for the fourth time this year. Six remarkable films were selected from Slovenia, Germany, Switzerland, UK, Serbia and Egypt.
Beside these special sections, we have a novelty this year: revolution stories from around the world. We selected eight films from around the world, digging deep in the history and details of revolutions in Africa, Portugal, Iran, Romania, and France.
Al-Masry: You'll also be screening the 2011 Egyptian documentary "The Good, The Bad and The Politician," as part of the revolution program.
Khoury: Yes, it will be screened for the first time in Egypt, after participating in several festivals and receiving awards. It is a big effort from the three filmmakers [Amr Salama, Tamer Ezzat and Ayten Amin] to work together so closely after the events and review them after such a short time. They deserve respect.
Al-Masry: How do you expect viewers will react to the selected films?
Khoury: It is hard to predict people's tastes. I believe the audience is particularly awaiting Lars Von Trier's "Melancholia" (2011), and Pedro Almodovar's "The Skin I Live In." We'll have to see how audiences respond to other films like "NEDs" (Britain, 2010), "Ages of Love" (Italy, 2011), "Submarine" (UK-USA 2011), "Chico & Rita" (Spain 2010), "Made in Dagenham" (UK, 2010) and "The Kid with a Bike" (Belgium 2011).
Al-Masry: You resigned from the board of the National Cinema Center a couple of months ago; do you see a possibility to collaborate with public institutions in organizing film events?
Khoury: Of course, there is a lot of material and financial aid national institutions could provide for the panorama and similar events. This year we did not ask for that as we are still confined to Cairo; maybe when we think to expand to the governorates we will have to cooperate with bigger institutions and sponsors. My resignation came in that context; I found a conflict of interest between being an independent producer and occupying a public position. I am also positive that my work in the private sector is much more beneficial, while others could lead this voluntary public job better than me.
The 4th Panorama of the European Film will be held in Cairo from 23–29 November 2011, at the Galaxy Cinemas in Manial and Stars Cinema at City Stars in Heliopolis. The schedule of screenings can be found on the Misr International Films website.