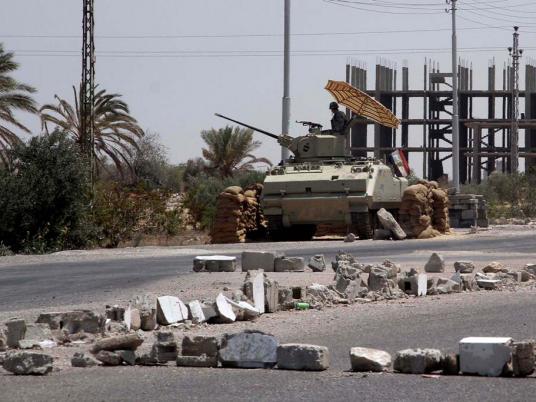 Policemen in Sinai ended their protests around the Arish Security Directorate on Sunday, after Interior Minister Ahmed Gamal Eddin sacked North Sinai Security Director General Ahmed Bakr, and appointed his deputy, General Samih Ahmed Bashady, in his place.
"Bashady is a good guy, we've known him ever since the 25 January revolution, and he always stood by us," a low-ranking policeman and protester in North Sinai who preferred to remain anonymous told Egypt Independent.
The move came following the killing of three policemen and the injury of a fourth in an attack by gunmen on a police patrol in North Sinai's capital of Arish on Saturday.
The policemen had been protesting since Saturday, saying that they have been left without protection to face militants' attacks.
The protesting low-ranking policeman complained that policemen in North Sinai weren't involved in security plans to confront militants and protect the governorate.
"We find ourselves paralyzed in front of crimes and terrorist attacks because we don't get orders from our superiors to get involved and we are not equipped," he said.
North Sinai's tribal leaders agreed, saying President Mohamed Morsy must issue a decree to shut down the smuggling tunnels on the Rafah border between Egypt and Gaza, increase security forces in North Sinai and give them the jurisdiction to stand up against crime and militancy.
The tribal leaders expected to meet the defense and interior ministers, Abdel Fattah al-Sisi and Ahmed Gamal Eddin, when the two visited North Sinai on Sunday to inspect its security situation. However, they were outraged to find out that the two ministers abruptly left the governorate before meeting them.
"We were invited to the headquarters of North Sinai Governorate to sit down with the interior and defense ministers, but we were surprised that they didn't come," said Aaref Abu Ekr, head of the Kour tribe in North Sinai.
They ended up meeting with Abdel Fattah Harhour, a former general who was recently appointed governor by President Morsy, and an official from the Defense Ministry.
Abu Ekr said they were told that the ministers were summoned by Morsy, but that didn't ease their anger.
Tribal leaders, however, weren't impressed with the appointment of Bashady.
"It doesn't matter who the security director is, what matters is his jurisdiction and increasing security in North Sinai," he said, adding that this could only be done through a presidential decree.
The security situation has deteriorated in North Sinai ever since the 25 January revolt that toppled former President Hosni Mubarak.
There have been several militant attacks in the governorate. The most deadly took place in August, when 16 policemen were shot dead by armed assailants at a checkpoint near Rafah.
Many political powers have blamed the 1979 peace treaty between Egypt and Israel for the lack of security in North Sinai. The treaty restricts the Egyptian military presence in the governorate.
When the military launched an operation in August to purge criminal and militant strongholds, it insisted that it wasn't in violation of the Camp David Accords. Armed Forces media spokesperson Colonel Ahmed Mohamed Ali said in September that the operation was a success. He claimed that it discovered and destroyed 31 tunnels, killed 32 "criminal elements" and wounded one, and confiscated a large number of weapons.
He added that the government has allocated LE1.65 billion for development in Sinai.
Abu Ekr, however, said that the operation went well for around a month but after that security deteriorated once again.
Meanwhile, a group of revolutionary youths ended a sit-in Sunday near the North Sinai governorate building after Bashady's appointment.
"We have a meeting with the governor and the new North Sinai director to talk about the security situation in Sinai," North Sinai activist Khaled Saad said.
"Our main demand is achieving strong security in Sinai," he added.