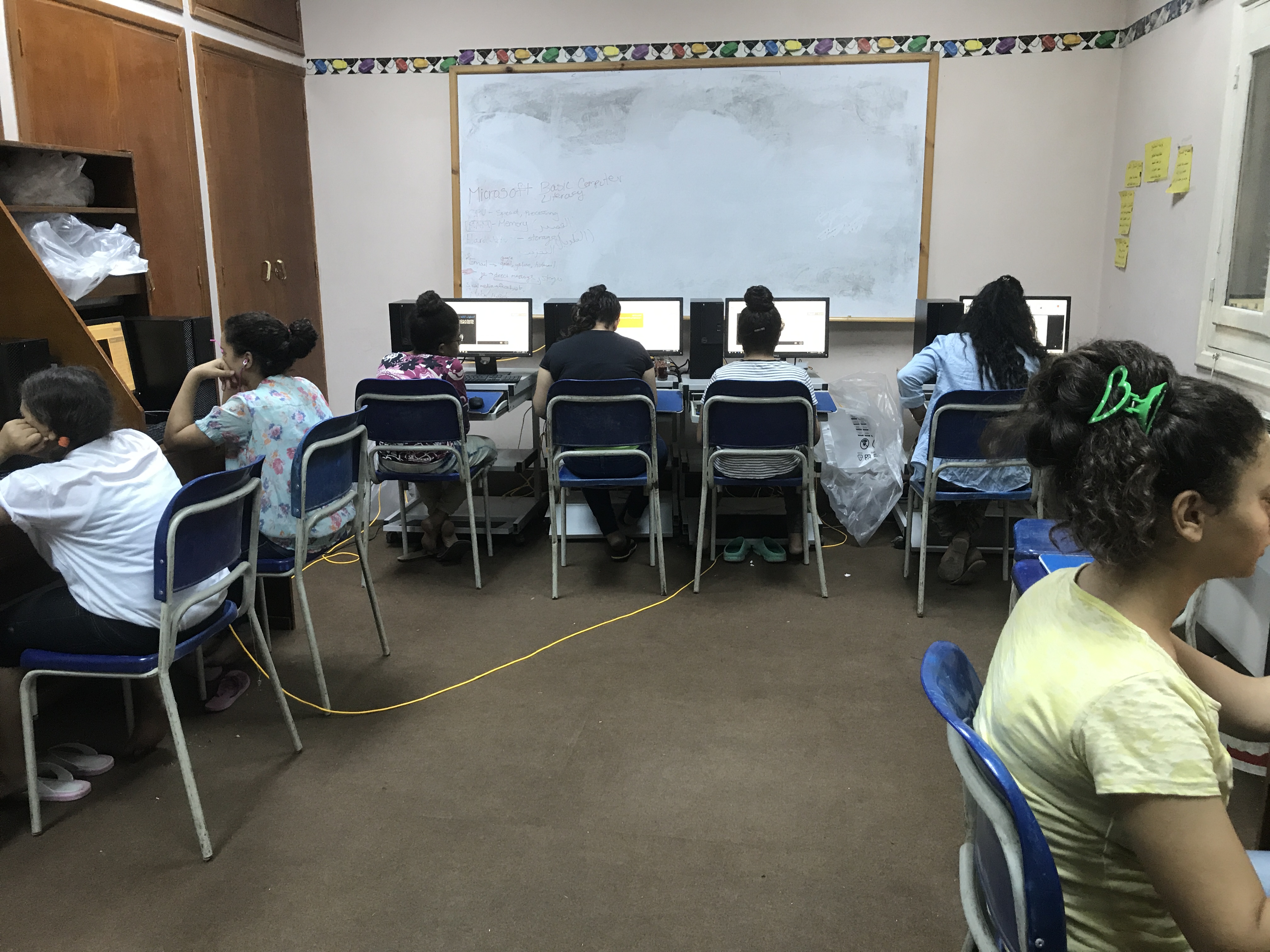 In the numerous villages that lie at the bottom of Upper Egypt, many still see education for women as a luxury, not a necessity. Thus most young women are encouraged to drop out of school, with some never having a chance at education to begin with.
Many women from these marginalized communities face similar destinies; forced into early marriage and working at disadvantaged farms where they are compelled to stay underpaid, earning them endless health problems in the long-run.
Life is only harder if these women were orphaned, as stigmas in Egyptian culture against orphans pile up more struggles on top of what they will face in poverty.
However, hope has come for the young orphaned women of Upper Egypt in the form of the 'Benat Seshat' (Daughters of Seshat) Initiative.
'Benat Seshat' is a computer learning initiative that is passionate about empowering women through providing digital literacy. Initiative founder Nancy Awad strongly believes that digital learning skills and self-advocacy are the key towards a brighter future for these disenfranchised women.
Its mission focuses on bolstering their education through diverse learning supplements: it aims to introduce to the world women that are fully capable of dealing with it.
Speaking to Egypt Independent, founder Awad discussed her own personal connection to the initiative: "Although I was born in Banha, both my parents are orphans from Upper Egypt which is why this project hits close to home."
A report from Time Magazine on Egypt's orphanages explained that many orphanages are abusive and neglectful, a result of underpaid, undertrained workers. Social stigmas against orphans also haunt them even after they grow up.
The 'Benat Seshat' project seeks to provide orphaned young women between the ages of 14 and 30 in Upper Egypt with an exceptional and accessible repertoire of tech-learning opportunities, helping them stand up against this deeply entrenched stigma in rural Egyptian communities.
The initiative kicked off in July 2019, running a twenty-day summer program pilot with a computer literacy curriculum over two months. In efforts to cope up with the participants mismatching schedules, the program also offered two sessions of class during July and August, one in the morning while the other in the evening.
On her plans for the initiative, Awad said that "I plan on having the computer lab be used to help students in school with their work. Many of them told me that the lab will assist them greatly in doing research, writing a paper, or making a presentation- all things we take for granted."
Starting off after a two-year preparation phase, the initiative had over 40 participants already show significant interest in learning beneficial digital skills, self-realization skills and social integration.
"This initiative supports its students and provides them with the resources to become strong self-advocates who know their value and self-worth, regardless of what society constantly tells them," Awad said.
Although Awad is the sole founder, more than 50 other experts are contributing in the project including professors, NGO directors, organization leaders, orphanage volunteers and more, who help Awad through providing constructive feedback.
At the end of the program, participants obtain a certificate which will help their resumes, as technology grows more essential in the modern world enabling them to reach audiences as well as navigating the online market.
Asked about her motives that fueled the project, Awad referred to a paragraph published in the Time Magazine report: "Being an orphan in Egypt is akin to being in a lower caste of people. Orphans are widely labeled as 'children of sin' and assumed to be the illegitimate and abandoned products of extramarital sex. This label follows them throughout life, making it difficult for orphans to attend public schools or universities and nearly impossible for them to marry a non-orphan."
This paragraph sparked Awad into action, who designed the initiative to address the distressing conditions many orphans in Egypt face.
She further explained that "Since orphan-hood is a life-long identity marker in Egypt, and many organizations tend to assist only orphaned children, I decided to focus the reach of my initiative on older orphans, specifically women."
Awad intentionally picked a meaningful name for the initiative, as Seshat refers to the Ancient Egyptian goddess of knowledge, wisdom, and intelligence. The initiative follows in the footsteps of this ancient goddess devoted to education.
The project is fully-funded by Swarthmore College and the Lang Center for Civic and Social Responsibility. It is also the recipient of the Lang Opportunity Scholarship.
This scholarship provides projects with an assortment of privileges including a US$10,000 grant, a designated adviser, and the necessary social connections needed to enhance the initiative.
Regarding the initiative's results so far, Awad expressed pride towards how her participants have changed, adding that she could see critical thinking they hold through talking and exchanging thoughts, in addition to a noticeable shift in self-confidence.
She proudly declared that "The program is running very smoothly and has been very successful. It is close to finishing its initial pilot phase during this summer."
Regarding required procedures to apply for the program, Awad pointed out that it is very open, flexible, and accommodating, accepting any woman interested in participating.
The founder said that certificate distribution, the finals ceremony, and new teacher training will take place during winter break.
She also revealed further plans to select people from the rural area where the program is held, to secure the presence of administrators that deeply care about the cause of the project.
High illiteracy scores are common in Upper Egyptian governorates, which houses around 100 of the country's poorest villages, according to a study published by the UNICEF. The same study said that 70 percent of young women in Upper Egypt are unemployed and their illiteracy rates double those of men there.
Released in 2018, an eye-opening report by UN Women highlights the significant gender gap through various issues such as illiteracy and poverty plaguing Upper Egypt, home to 58 percent of Egyptians.