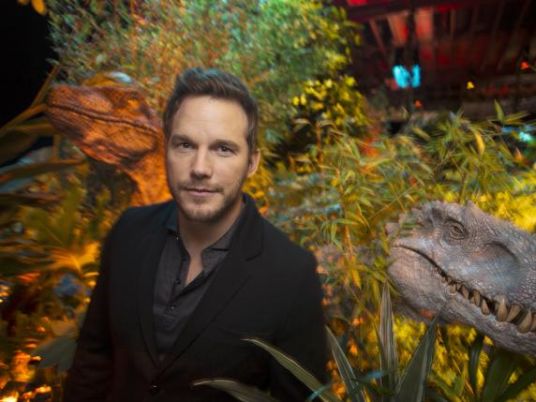 The dinosaurs are bigger, the rides are scarier and there's a dashing new leading pair as the main attraction: "Jurassic World" is open for business again and hoping to entice a new generation used to getting more bang for its movie buck.
The film, out in US theaters on Friday, revives the classic sci-fi action franchise that began with Steven Spielberg making dinosaurs come to life in 1993's "Jurassic Park."
But two decades on, as Bryce Dallas Howard's Claire slyly says in the film, no one is excited about seeing a dinosaur anymore. Yawn.
That's why the theme park in which "Jurassic World" is set needs to amp up the danger for visitors drawn by the adrenaline-fueled experience of getting up close and personal with dinosaurs.
Mirroring the film's attempt to reboot an old franchise with more thrills, the park has hatched a new hybrid creature attraction, the bigger, badder Indominus Rex, created in a lab from a test tube mix of dinosaurs.
But the monster has a mind of her own, and as fans of the original franchise have learned, never turn your back on a dinosaur.
"Good science fiction always holds a mirror up to current events, to our humanity," director Colin Trevorrow told Reuters.
"The Indominus Rex is a product of a desire for profit at all costs, and that very corporate need is something that can do a lot of harm and really compromise our ethics and humanity in ways that we've seen consistently played out over time."
Made for US$150 million by Comcast Corp-owned Universal Pictures, "Jurassic World" is projected to earn $121 million in its opening weekend, making it one of the year's biggest debuts, according to BoxOffice.com.
To play raptor trainer Owen, actor Chris Pratt said he embraced the "swagger" of the hero of one of Spielberg's most recognizable films: rogue archeologist Indiana Jones.
"You don't have to necessarily remake 'Indiana Jones' to play that character," he said. "He's an adventurer, he's got a contentious relationship with the woman who's his polar opposite. This whole movie is very much an homage to Steven Spielberg's work."
Trevorrow, directing his first big-budget film, said he was eager to twist character archetypes, with Pratt's Owen initially playing a classic hero to Howard's uptight and immaculately groomed Claire.
It is Claire, however, who Trevorrow said drives the film.
"I consider her the lead but it isn't necessarily reflected that way in the marketing," he said. The film's campaign has focused on Pratt, a newly minted leading man with last year's hit film, "Guardians of the Galaxy."
"When you would imagine the traditional hero to be the one riding in on his white horse and saving the woman who's cowering with the children, we did it differently."