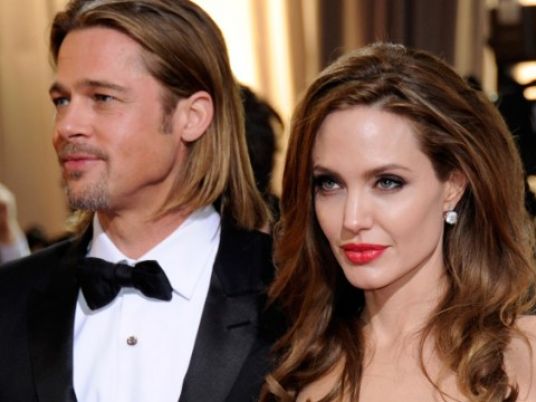 Angelina Jolie and Brad Pitt teamed up for the first time on screen in 10 years for "By The Sea" but Hollywood's leading power couple on Friday got scathing early reviews for the movie, which some deemed a laborious vanity project.
"By the Sea" was written and directed by Jolie Pitt and inspired by the grief she experienced over the death in 2007 of her mother. It focuses on the stale marriage of former dancer Vanessa (played by Jolie Pitt) and her husband, blocked writer Roland (played by Pitt).
The Hollywood Reporter's Todd McCarthy called it "the kind of vanity project you don't see much of anymore." He wrote that it was a languid attempt at European arthouse cinema that "will prove once again that even the biggest names in the world won't draw an audience to something that, in and of itself, has no reason for being."
The more than two hour-long film, which opens in US movie theaters on November 13, reunites the two actors as a screen couple for the first time since the flirty 2005 action comedy "Mr.& Mrs. Smith", which brought them together in real life.
"By the Sea" – Jolie Pitt's third directorial feature – could hardly be more different.
Alonso Duralde of TheWrap.com bemoaned the movie's "dreary scenes from a dull marriage," adding that it was hard "watching these two talented actors play blanks who have no chemistry with each other."
Critics praised the cinematography as exquisite but said the stunning visuals failed to make up for a weak script and a plot where nothing much happens.
Scott Mendelson at Forbes.com admired the film more than he enjoyed it and said it may appeal to fans of talky, beautiful to look at foreign movies. "For anyone else, it will probably come off like a feature-length perfume commercial punctuated by outbursts of emotion and light kink."
Fred Topel of the NerdReport.com, was kinder than most of the early reviewers on Friday. "Any time you get to see a filmmaker's soul on display, if that doesn't intrigue you enough for two hours, you're missing out," he wrote.
But Variety's Justin Chang called the movie "an unabashed vanity project" that is "meandering and overlong in ways that will test the patience of even die-hard Brangelina fans."