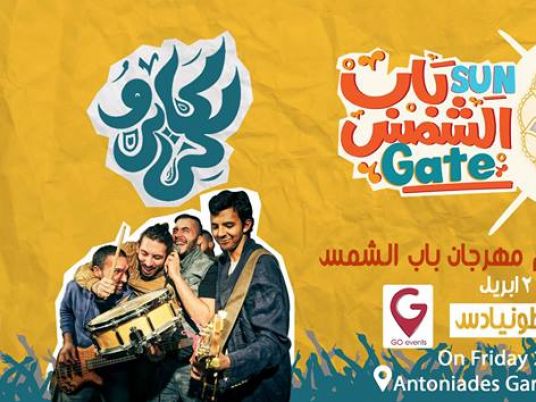 A few days prior to the launch of the long prepared "Bab El-Shams" cultural festival, event organizers were surprised with a decree to suspend the festival based on security concerns.
Two popular Egyptian bands, CairoKee and Massar Egbari, were part of the festival's attractions. They were expected to perform in the Antoniadis Garden in Alexandria. The festival was also preparing several sports, cultural and entertainment workshops, as well as an exhibition of small and medium enterprise projects done by young adults.
According to the Agora group, organizers were completing the permissions process and had paid the necessary taxes, noting that it was quite complicated. They had been asked to acquire extra security measures, but were given no clear reason for this request.
"The governorate said the concerts were suspended because the bands perform inciting songs and do
not produce songs that support the regime's achievements
," Ayman Masoud, a member of the Massar Egbari band, told
Egypt Independent
.
"We have performed several concerts throughout the nation, at the Stanley bridge, at the University of Alexandria and many other places. No one told us we are inciters, and everything is ok. The issue is the same with the Cairokee team who will perform a concert in Cairo shortly," said Masoud.
He pointed out that the band has only performed a few songs on the topic of politics, such as 'Al Hokouma' (The government), 'Mafeesh Haga' (There is nothing ) and "Kol ma Aoul" (Everytime I say), but none of them incited violence. Generally, Massar Egbari avoids politics in all their business dealings. Most of the songs they play represent the youth and life in Egypt, outside of politics.
"But I will say what Cairokee did in their song, 'Mkamlen' (We will continue)," Masoud told Al-Masry Al-Youm.
Two months ago, Egyptian singer Hamza Namira was expelled from the Egyptian Syndicate of Musical Professions after releasing his latest album, "Esmaani" (Listen to me). The decision was based on his alleged opposition to the ruling government.
Moreover, the Cairo Opera House canceled the play "500s Khomsomeeyat" as part of the fifth annual Hakawy International Arts festival for Children on March 15-16. The content depicting youth during their adolescence was deemed "inappropriate".