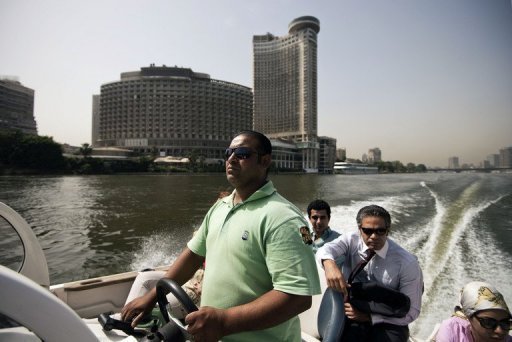 Whatever their social or political differences, Cairo's residents agree on one thing: the traffic is a nightmare.
Increasingly desperate to escape the gridlock and pollution of the Egyptian capital, more people are now using the Nile for their daily commute to work.
A new taxi service that uses speed boats to whizz passengers up and down the river has proven the most exciting alternative for many a stressed-out Egyptian.
It's fast, it's fun and most of all, it gives passengers a quick break from Cairo's commotion.
"I get to work relaxed — I'm not stressed, I'm not nervous," says Ahmed Amin, 43, a father of two who used to spend nearly four hours a day getting to work and back before discovering Nile Taxi.
A 20-minute ride from the taxi's southernmost stop in Maadi to Ramlet Boulaq further north, shoots past office towers and Renaissance-style villas — too fast to dwell on the murky river's flotsam or the dilapidated shacks dotting its banks.
At 30 Egyptian pounds ($4.3) for a one-way ticket, the service is beyond the reach of many Egyptians, 25 percent of whom live in poverty according to government figures.
But it is a relief for those used to taking road taxis at roughly the same price, or those tired of driving their own cars through traffic.
Amin, who works in the finance department of a Cairo-based international organisation, says the boat trips have cut short his commute by about 30 percent, "not to mention the effect it has had on my mood".
"My performance at work is better than when I was driving," he says.
From the boat, Cairo — a city of more than 18 million people — feels green, orderly and breezy.
But just a few steps from the makeshift boat jetties, the traffic is so bad and the heat so stifling that motorbikes take to the pavement and taxi drivers switch their engines off.
"Let them ride boats. Frankly I'd be happier with fewer customers if the streets were less congested," says cab driver Sayyed Ali.
"On many days, I just go home after two or three hours because I can't take these conditions any more," he tells AFP.
Nile Taxi is the brainchild of Magdi Kirollos Ghali and Amr Aboul Seoud.
The pair saw a business opportunity in the ancient waterway that would respond to the frustration of commuters while eventually easing traffic and alleviating pollution in parts of the capital.
"We have a very big highway that hasn't been used for years and years and years," says Ghali.
The Nile, which rises from sources in Ethiopia and Uganda and flows into the Mediterranean, is Egypt's pumping heart, supplying the country with water and irrigating its banks.
Today in Cairo, the Nile is a hive of activity where Pharaonic-themed dinner boats glide and neon-lit party boats pinball around the water.
The waterway has been used for fishing, for tourism, and even for watersports, but its potential for passenger transport has been underutilised, says Ghali.
The idea for Nile Taxi came about six years ago when the pair drew up plans for a comprehensive new transport system on the river.
Their vision included the reinvigoration of the current government-run Nile Bus which has been operating since the 1960s.
It is cheap and there are many stops, but the boats are old and the routes not always reliable, passengers say.
Ghali, who has worked in the maritime business since 2001, says he and Aboul Seoud commissioned studies on Cairo's transport, traffic, and pollution and travelled around world to acquire the know-how to set up their business.
They were just about to start designing their solar-powered boats when the 2011 revolution that ousted Hosni Mubarak brought their plans, and many new business ventures in the country, to a dead stop.
The aftermath of the uprising ushered in an era of lawlessness, political turmoil, government reshuffles, insecurity and violence.
"We didn't know who to call or what to do," Ghali tells AFP.
But when things became "too unbearable" on the roads, they decided to go ahead with a modified version of their original plan, using three motorboats they already owned.
"The boat's route avoids the most congested part of Cairo which is Downtown. If this takes off, it would really ease traffic in Cairo," Sherif Youssef says as he tests out the new shuttle service.
By July, the company plans to launch a new tailor-made fleet of low-emission boats, carrying 15 passengers each.
The ultimate goal is to have 30 boats in two years, carrying 15,000 passengers a day.
"According to our studies, that would relieve central Cairo of three percent of vehicles," says Ghali.
"That may not sound like a lot in terms of percentages, but just think how many fewer cars that would be," he adds.