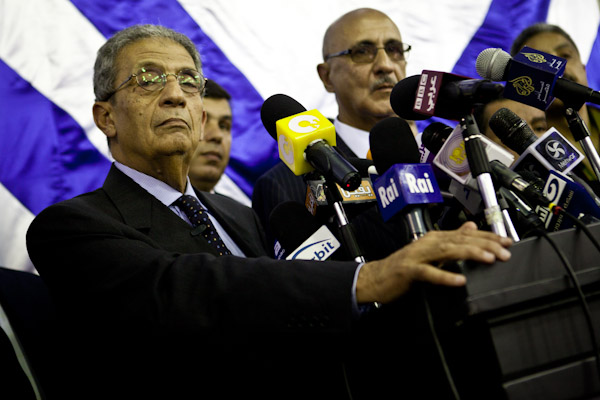 Conflicts broke out Tuesday during a meeting of secularists and liberals on the Constituent Assembly, as a number of members threatened to withdraw.
Sources reported that former presidential candidate Amr Moussa, Wafd Party head Al-Sayed al-Badawy and constitutional law professor Gaber Gad Nasser were among those who threatened to withdraw from the assembly.
Participants in the meeting decided to freeze their membership and submit their demands to President Mohamed Morsy so that he would be politically responsible, the sources added.
The demands include disbanding the wording committee, penalizing members who have exceeded the allowed number of absences and approving amendments that were agreed upon but have not been included in the draft constitution.
Souad Kamel Rezq, a university professor who had previously quit and rejoined the assembly, told Al-Masry Al-Youm, that she has decided to resign immediately rather than waiting for demands to be met. "This is my decision. I will not step back," she said.
The assembly members decided to task Badawy with submitting the demands to Morsy on Wednesday, saying they would withdraw after this if their demands are not met.
Former MP George Nagy Messiha, a participant at the meeting, said several attendees supported demanding that Morsy restructure the assembly, arguing that "the majority seeks partisan, not national goals."
Wahid Abdel Meguid, the spokesperson for the Constituent Assembly, warned Monday during a phone interview with satellite channel Tahrir against gridlock in drafting the new constitution and said secular members of the assembly might withdraw because they have been prevented from speaking and proposing different wording for crucial provisions in the final document.
Edited translation from Al-Masry Al-Youm