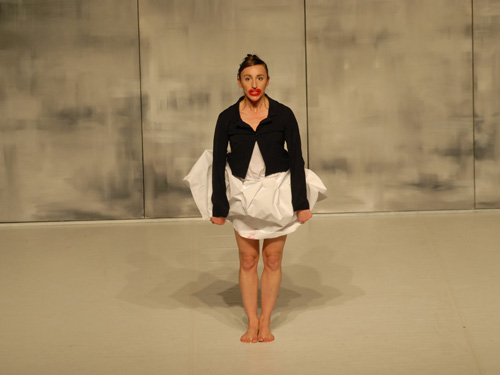 It is a few days before the launch of the second annual Downtown Contemporary Arts Festival, or D-CAF, and Catalonian choreographer Tomeo Verges certainly has his hands full with preparations for this year's activities.
While sitting in downtown Cairo's Studio Emad Eddin, Verges says laughingly, "I am a butcher's son. I am a doctor. I am also a choreographer."
He pauses to direct local dancers Mahmoud Fouad and Raafat El Bayoumi in their rehearsal for the collaborative performance titled "Traffic," which will show as part of the festival's Urban Visions Program.
"I have spent my life dealing closely with flesh, meat and movement, all of which can be seen within my productions," explains Verges, while telling the dancers to "take five"— performance code for "take a break."
From an early age, Verges showed an obvious need to express himself using his body. At first, his expression came in the form of his athleticism, seen mostly through his time as a competitive swimmer.
After high school, he moved to Barcelona to study medicine, but soon became infected with the desire to dance, after repeated exposure to the Catalonian capital's art circles.
Soon afterward, he moved to Paris to specialize in tropical medicine — a branch of medicine that deals with health problems that occur uniquely, are more widespread, or that prove more difficult to control, in tropical and subtropical regions.
He went on to practice medicine in India, Cairo and Nepal, but, throughout his travels, Verges continued to study and practice dance on the side. Upon his return to Europe, he obtained a scholarship to study theater, prompting him to put his medical practice on hold.
"For me, everything changed when I was hired by [French choreographer and dancer] Maguy Marin for the original production of the now-mythical 'May B' production. That was really the beginning of my career as a dancer," explains Verges.
He goes on to mention that Maguy Marin's "May B" drew much of its inspiration from Samuel Beckett's characters, who struggle to form human bonds because of the absurdity of life. The choreography builds upon the dancers' constantly interrupted circulations and movements.
Throughout his performing arts career, Verges has often been known to incorporate various elements of theater into his productions, which he describes as physical-theater versus dance-theater, meaning he works more with the physicality of the body, rather than musical-styled performances.
In 1992, Verges founded the performing arts company Man Drake, which conceived "Chair de Poule" at the Biennale de Lyon, followed by "Piece de Coeur," a duet danced and choreographed with Anna Rodriguez. The company has also held residencies at the Centre Dramatique National de Montreuil, the National Theater of Besancon and the National Theater of Bezons.
He also went on to create various performances including "Body Time" and "Idiotas," in addition to off-stage performances conceived for a specific place or event.
Having worked with leading performer and D-CAF Artistic Director Ahmed Attar at Studio Emad Eddin on dance projects in the past, Verges returned to Cairo in October to start working on two co-productions with Egyptian dancers.
"When I met with Ahmed last fall, he discussed the possibility of incorporating both co-productions within the upcoming D-CAF. He also invited me to show my current performance project, 'Anatomia Publica,' within the festival's program," explains Verges.
"Anatomia Publica," which will kick off D-CAF festivities on 4 April, is sure to be a special treat for dance enthusiasts attending this year's festival. "Anatomia Publica" premiered in February last year, and has since held close to 10 successful performances throughout Europe.
Verges says the 50-minute performance exemplifies his incursion into the world of dance-theater. Drawing on his past as a butcher's son, a doctor and choreographer, the show is largely autobiographical and focuses on the dissection of movement.
"The story is largely based on my grandmother. It is about a woman living with two men in a particular circumstance. I wanted to open up this story in order to discover something new," says Verges, with widening eyes and obvious excitement. "You see, this is where my doctor past influences my art. I wanted to dissect this family story and understand the anatomy of the situation."
He says he drew inspiration from filmmaker Martin Arnold, who takes one-minute films and composes a new film lasting between 15 minutes and 60 minutes or longer.
"He does it as a kind of anatomy," Verges adds. "And this is what we do in real life — we decompose moments."
For Verges, everything can be found with proper dissection. He goes on to cite an example: "Let us say that I want to kiss you. If I decompose this compulsion in space and time, many things start to appear. If you take this movement and deconstruct it, you have all the mini fragments that make up our moments."
This is one example he uses often to mediate his ideas.
The performance pays homage to Arnold's films, but instead of decomposing images, Verges focuses on the movements, dissecting them until new truths present themselves.
"But do you know what I am most excited about?" asks Verges. "It is the work [Man Drake is] doing with the collaborative performances 'Traffic' and 'Only Happiness?'"
He goes on to mention that the Man Drake company operates through three different channels: theater on the stage, theater in public spaces, and pedagogy and workshops.
"What is most important to me is the contact with the people," he explains. "Every time we produce a performance piece, I propose a workshop to speak, educate and sometimes collaborate. So much of this is about experiencing cultural or human exchanges."
As part of D-CAF's Urban Visions program, Verges has been working alongside Egyptian dancers to collaborate on an adapted performance titled "Traffic" for close to six months now.
According to the program's literature, "Traffic" playfully explores the relationship between the individual and the group. Installed on a platform, performers mechanically repeat gestures and movements typical of traffic police.
The performance will take place in a public space in downtown Cairo, and is said to play off power roles in society and the mechanics of movement. The audience is left to wonder if the traffic guards will in fact be able to succeed in attempting to organize the chaos.
"Traffic" will feature four local dancers, Mohamed Fouad, Sherine Hegazy, Raafat El Bayoumi and Ahmed El Gendy, all of whom are known to be budding artists within Egypt's contemporary dance scene, particularly for their work within public spaces.
All four performers also recently took part in the "Cairography" video-dance exhibit, which premiered last month at 10 Mahmoud Basiouny. That video deals heavily with the relationship between art and spectators within public spaces.
"It is important that artists reach out to different audiences than regular theater goers," says Fouad. "We have to expose all members of society to our current forms of cultural expression. Egypt has been in a very bad place for a very long time, and now, we are scared of each other on the streets. So doing these types of performances allows us to break down these barriers, and gather people or passers-by together, if only for a moment."
For Bayoumi, dancing is not only his career and his life — dancing is his purpose.
"We do not have many outlets here as dancers, so we must use the street as our stage. The more they try to scare us off the streets, the more it compels me to work with the streets as my stage," Bayoumi says. "We cannot only have violence on the streets, we need art. We need to see reactions and push boundaries."
"Traffic" will be something of a mobile performance, traveling from Giza to downtown Cairo, in addition to Doweir village in the Upper Egyptian governorate of Assiut.
In "Only Happiness?" Verges works with local performers Hegazy and Othman to collaborate on a localized adaptation of the performance, which features Sandrine Maisonneuve, who is also the lead in "Anatomia Publica."
The 35-minute performance is based on a monologue from the play "Interior Murders," where a woman performs, repeats and transforms a sequence of daily actions into a metronome rhythm. Although caught up in a "social straitjacket," the woman fights back and forth with an image she imposes on herself, causing an onset of cliches and the emergence of grotesque images, until she reaches utter exhaustion.
"There is no direct message in this piece," explains Verges. "It is open to the spectator's interpretation and associations."
Verges adds that "while this piece was performed before, the input and messages are coming directly from the performers themselves.
"That is why it was important to give the girls freedom to express their own stories and their relationship with their society. It is not for me to come in and say how they should feel. I give them tools, and they go with it," he says.
"Only Happiness?" will be shown on 6 April at 2:30 pm and 7 April at 6 pm at the Hotel Viennoise. The performance will not use a traditional stage, but instead will utilize the former hotel's first floor as a vital part of the scenes presented.
"For me, the story is not the fundamental thing in art — it is how we tell the story," explains Verges. "I think the most important thing is to leave the audience asking 'How?' rather than 'Why?'"
Photo: Axel Perez