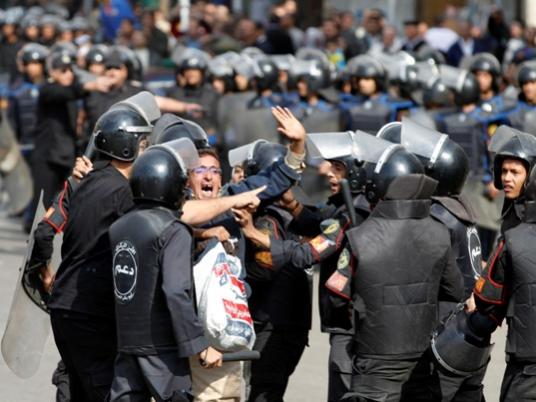 A criminal court on Thursday acquitted four senior police officers accused of killing protesters during the 25 January uprising.
The defendants included Farouk Lashin, the former security director for Qalyubiya; Gamal Hosny, the deputy security director for the South Qalyubiya sector; and two assistant security directors for Shubra al-Khaimah, Ahmed Momtaz and Samir Zaki.
In March 2011, the public prosecutor referred the defendants to the Shubra Criminal Court on charges of murder and attempted murder of protesters during the 25 January uprising.
Investigations indicated that the defendants were involved in plans to prevent protesters from Qalyubiya and other governorates from participating in what was dubbed the "Friday of Rage" on 28 January. Clashes erupted between security forces and protesters on 28 January in Cairo and Qalyubiya, south of Cairo, in which at least 20 people were killed and more than 40 others were injured.
According to the prosecutor's investigations, security forces dealt with the protesters with unjustified violence to prevent them from reaching Tahrir Square. Eyewitnesses reported that the police used live ammunition, causing the deaths of several protesters.
According to Health Ministry figures, some 850 protesters were killed and 6,000 injured from excessive force used by security forces against protesters during the 18-day uprising.
Courts have acquitted dozens of police officers of killing revolutionaries in several cases, angering victims' families. President Mohamed Morsy has promised the families retribution several times since he took office.
On 14 June, the Cairo Criminal Court acquitted a police captain in the Cairo neighborhood of Marg of killing a protester during the 25 January uprising. On the same day, the Mansoura Criminal Court acquitted four Daqahlia police officers accused of same crime.
The same month, the Giza Criminal Court cleared 13 policemen of killing six protesters and attempting to kill 18 others in the neighborhoods of Kerdasa and Imbaba during the uprising.
Edited translation from Al-Masry Al-Youm