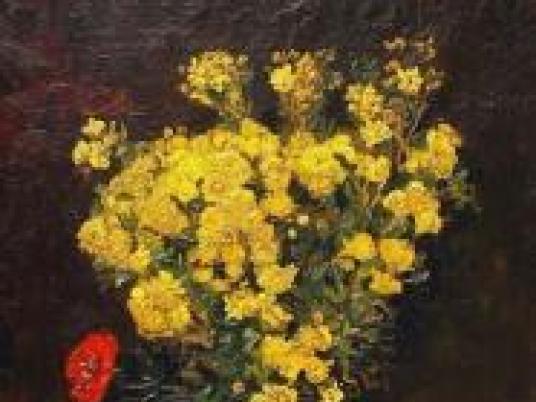 The Court of Cassation confirmed Saturday an earlier verdict sentencing a former Culture Ministry official to a year of hard labor for neglect of duty in the case of a stolen Vincent Van Gogh painting.
Mohsen Shaalan, first undersecretary to the Culture Minister for the plastic arts department, was sentenced to one year of hard labor in prison on charges of neglecting his duty, which lead to the robbery of Van Gogh's painting the "Poppy Flowers" from Mohamed Mahmoud Khalil Museum. Judge Ahmed Yehya confirmed the ruling Saturday.
Van Gogh's "Poppy Flowers," also known as "Vase with Flowers," was stolen in August 2010 in a brazen daytime heist. The case highlighted major security weaknesses in Egypt's cultural institutions. The Dutch masterpiece, valued at more than US$50 million, was cut out of its frame. The painting of yellow and red flowers in a vase was also stolen in 1977, but recovered the following year.
The court also upheld a verdict issued against Sobhy Mohamed, security head at the museum, who was sentenced to six months of hard labor.
The court decided to retry three other defendants who worked in the museum and who had also received sentences of six months' hard labor from the Misdemeanors Court.
Attorney General Abdel Meguid Mahmoud referred the accused to trial and charged them with negligence in their duty, which led to the loss of public money from the ministry due to the theft of the painting.
Edited translation from MENA