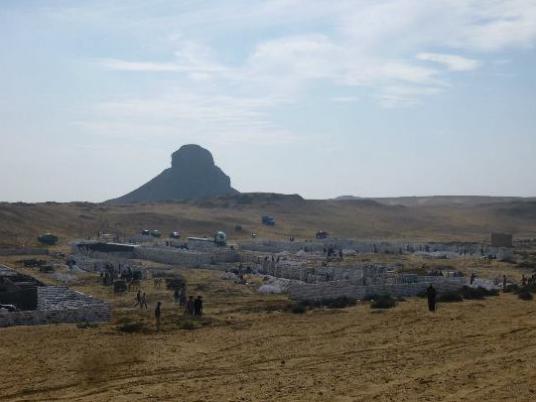 The Dahshour antiquities site south of Sakkara finds itself in a difficult situation as residents, antiquity authorities and conservationists fight over its development, and who the land really belongs to.
The large ancient Egyptian necropolis has been a UNESCO world heritage site since 1994. Several pyramids, including Sneferu's bent pyramid, are located here, and previous excavation missions suggest an abundance of undiscovered antiquities. Despite UNESCO officials' attempts to revive Dahshour through ecotourism and preservation projects, residents remain unsatisfied, largely poor and at odds with said developments.
This week, residents began digging a cemetery on a piece of land in the vicinity of the Temple Valley, arguing that they have nowhere else to bury their dead. Some residents said that they obtained the proper authorization for building the cemetery, but this remains unconfirmed.
In response, Minister of Antiquities Mohamed Ibrahim announced that the land residents encroached upon is not currently being excavated, but a trial excavation of the site needs to be done. The ministry would act immediately to remove the encroachments, he added.
This most recent discord is uncovering the interests of various groups who have been operating in the area for years now, such as workers at local sand and stone quarries close to Dahshur, and antiquities traders who envision different uses for the archaeological land. Their influence has increased with the help of the ongoing security vacuum since January 2011, as well as misinformation, poverty and illegal power-mongering in the area, argue residents and conservationists working in Dahshour.
Another challenge facing some of the residents is the fast-paced drying up of Dahshour's Royal Lake. Although the whole region southwest of Cairo suffers from an extreme water crisis due to canal blockages and a lack of water, some residents are claiming that the Royal Lake is being dried on purpose in order to turn the area into land that can be used for development
Egypt Independent will be visiting the site over the next week, speaking to the different groups living and operating in the area in an attempt to clarify the controversies surrounding this precious location.