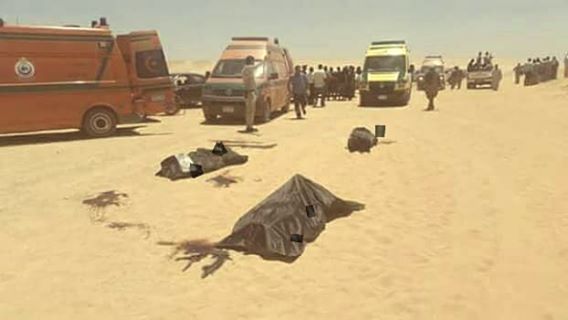 The death toll of the militant attack that targeted Minya Coptic bus on Friday morning reached 28, while 25 people were injured, according to a statement released by Minya governor Essam Bedwai.
The statement noted that a number of anonymous militants targeted a bus that carries Coptic worshipers heading to bishop Sameul monastery located in Minya desert, adding that most of the passengers were from Fayoum governorate.
The Interior Ministry released earlier Friday a statement in which it mentioned details of how the attack had been executed, saying that it claimed the lives of 26 Copts.
The ministry added that while a bus that carried a number of Coptic citizens was passing in the desert road in Minya governorate, a number of anonymous militants who were driving a four wheel vehicles opened fire on it.
"Directly following the attack, a number of high-ranking security officials moved to the incident scene," said the statement
"The attack took place while the bus was heading to Bishop Samuel, located south of El-Edwa city in Minya governorate. The death toll is still rising," the statement read.
In the early hours of Friday morning, a Health Ministry statement said that the number of deaths had reached 23 and injuries 25, in the attack that targeted a bus affiliated to a Coptic monastery in Minya.
Until now no group or entity has declared its responsibility for the attacks; however it is believed that the Islamic State group is the perpetrator, as it had released several warnings and threats against Copts in Egypt.
The Minya bus attack came after nearly a month of two deadly suicide bombings that targeted two churches in Egypt's cities of Tanta and Alexandria, these attacks led to the death of nearly 46 people.
In the wake of the Alexandria and Tanta attacks, Al-Sisi declared a state of emergency for three months in Egypt for the sake of eliminating terrorism.