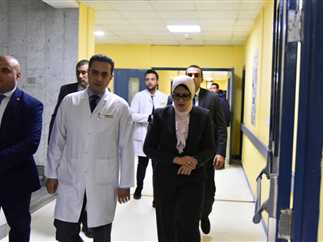 Two injured had died on Thursday, including the driver of an ambulance, bringing the total death toll to 22.
During her visit to the victims of the Ramses Station train accident at Dar al-Shifaa Hospital, Health Minister Hala Zayed said that all the bodies of the deceased are under the authority of the public prosecutors at the present time.
The total number of injured victims currently in hospitals is 26, who were admitted to Dar al-Shifaa Hospital, Nasser Institute Hospital, al-Helmeya Military Hospital, the Coptic Hospital and al-Demerdash Hospital.
The injuries are moderate, except for ten people in a serious condition, including six cases of high risk, the minister said, stressing that all medical care is being provided for them.
Zayed revealed that the hotline 137 has been allocated to receive inquiries from citizens about the names and places of the injured in order to help their relatives reach them.
Psychological health services are being provided to the injured as well, as many of them suffer from nervous shock due to what they saw during the fatal incident.
A fire erupted at Ramses Station in Cairo on Wednesday after a train slammed into the platform, killing more than 20 and leaving 43 injured.
Edited translation from Al-Masry Al-Youm