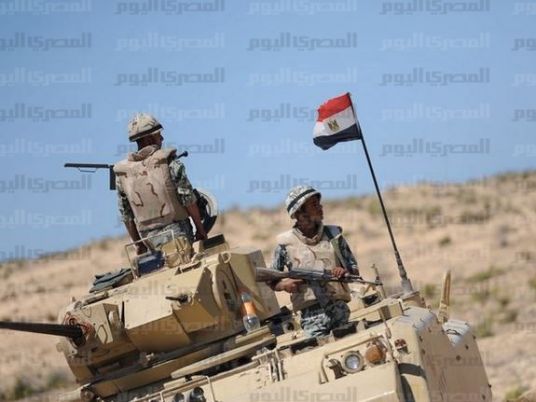 Defense Minister Sidqi Subhi has attended a simulation for crossing the Suez Canal that was carried out by units of the Third Field Army, using vehicles, ferries and launched segmental bridges, as part of the Badr 2014 maneuvers.
Third Field Army Commander Osama Askar said the men of the Third Army swore to work for the sake of Egypt and its armed forces and to carry out all tasks assigned to them with faith and steadfastness in order to defend the soil of the homeland and preserve its sanctities.
The maneuvers began with a presentation of the technical capabilities of the vehicles and equipment used in the crossing. Then the units crossed to the east bank of the canal and secured the end of the bridge in cooperation with the Air Force. Meanwhile, simulated rescue and evacuation missions were displayed during the process.
Military engineers opened the segmental bridges for armored vehicles to cross under the cover of the Air Force and the artillery.
Sidqi praised the outstanding performance of the formations and their combat readiness.
"We are carrying on with all our strength," he said. "Not even death will deter us from performing our duty."
"We took measures that the Egyptian people will see in the coming days," he added. "For the Egyptian army is capable of countering terrorism."
Attending the maneuvers were leaders of the armed forces, Egyptian and foreign students of the Command and Staff College and the Nasser Military Academy, elders of Sinai tribes and civil society and public figures.
Edited translation from Al-Masry Al-Youm