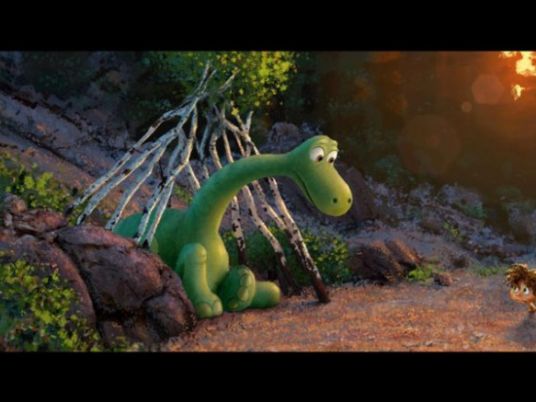 If you are an Egyptian and born between the mid-1980s and 1990s, you probably remember that happy moment when your parents played for the first time the videotapes of The Lion King and the Hakuna Matata song, as performed by Egyptian comedian Mohammed Henedy. Indeed, most childen in the Arab World grew up with Disney characters given voice by Egyptian stars, complete with the Egyptian dialect of Arabic.
For three decades, all Disney releases — including The Lion King, Toy Story and Finding Nemo — were dubbed into Egyptian, including Cars 2 in 2011. Then in 2012, in an announcement that came as a shock to many, Disney officially announced that it would be using classical Arabic in all its new productions.
Moreover, in 2013 Disney signed a deal with Al Jazeera Children's Channel stating that all new films and series would be dubbed into Modern Standard Arabic (MSA). The deal includes the shows Phineas and Ferb, Lilo and Stitch, and Zeke and Luther, along with movies such as A Bug's Life, Toy Story, Cars and Tangled.
The response has been a social media campaign from disgruntled Egyptians demanding that Disney return dubbing its films in the Egyptian dialect, rather than MSA (fusha in Arabic).
The hashtag #Disney_should_return_in_Egyptian_dialect (Disney lazm trga' masr') went viral on Facebook, with people calling on Disney to reconsider its decision, asking in particular for an Egyptian-dubbed version of the upcoming cartoon Finding Dory — the sequel to Finding Nemo.
Finding Nemo was immensely popular with an Egyptian soundtrack, the character of Dory (a fish) played by the famous Egyptian actress Abla Kamel. Her humorous style left its mark on children, including her famous quote "Oom w etmakhtar" (Just keep swiming).
One of the founders of the online campaign, Ahmed Mubarak, explains the impact of Disney's new policy on its Arab-speaking audiences.
"One of the first animated Disney films to be dubbed into Modern Standard Arabic was Brave, but it got a lukewarm response from audiences, with a large portion of fans in the Arab World considering it boring and not interesting. Therefore, unfortuntely, we stopped watching any Disney movies," says Mubarak.
Another Disney fan keen to return to the Egyptian dialect is Omar Ibrahim.
"The main point of our campaign is our demand that the dubbing of Disney's movies be returned to the Egyptian dialect. In 2012, it was changed by Disney's Middle East administration to the Lebanese dialect. Then Al-Jazeera network offered to buy the rights to show all Disney movies on their channels (Jeem and Baream) after re-dubbing them to Classical Arabic," says Ibrahim.
Mubarak points to various advantages of having Disney films dubbed into the Egyptian dialect. For one thing, he says, there is a long tradition of using Egyptian, and audiences have grown used to various humorous phrases from prominent animated characters through the years.
Also, he says, Egyptian dialect is more simple and easy to understand than MSA, making it more accessible to children across the region, as well as adult animation fans from various nations.
Egypt's deep pool of humorous acting talent has also helped, he says.
"The Egyptian slang made Disney movies more entertaining, because Egypt has the funniest and most comedic celebrities in the Middle East, with Egyptian comedy movies usually shown on big screens across the Middle East," Mubarak said.
The overall result of relying on the Egyptian dialect, he says, is that Disney movies have become hugely popular in the region as a whole, something that is now threatened.
Opponents of MSA in Disney soundtracks say it lacks the informality and humor required of an animated feature film, with catchy phrases rendered in a lumbering and formal fashion, something that many say will be offputting to audiences.
The campaign has sent a signed petition to Disney, worded as follows: "We the Arab fans ask you to please return the beautiful Egyptian dialect to Disney movies, instead of using the heavy Modern Standard Arabic."
The petition added, "We are not against our original language, but Disney movies have been highly successful in the Arab world largely because of the easy Egyptian accent. … Disney was the first to do this, rather than copying other companies. It was special and that's what make us love it."
Some fans in the campaign have asked how people will feel about a fourth movie in Tinker Bell series being rendered in Modern Standard Arabic after watching the first the first three in Egyptian dialect. The same applies, they say, to Monsters University, which follows Monsters, Inc.
Meanwhile, the famous Egyptian comedian Mohamed Henedy lent his support to the campaign, posting tweets of the most popular phrases of Disney characters, which he had dubbed. These include Timon in The Lion King and Mike Wazowski in Monsters, Inc.
"Share with me the famous quotes of the Egyptian Disney characters at the hashtag #Egyptian_Disney," he said on Twitter.
"I spent some great days when I was dubbing my Disney characters, and after the Egyptian dubbing for the Lion King, which broke records in the Arab World, Disney sent a letter of praise to the director Samir Habib," Henedy said.
Henedy promised that if Disney returns to the Egyptian dialect, he would be among the first to take part in dubbing the new movies.