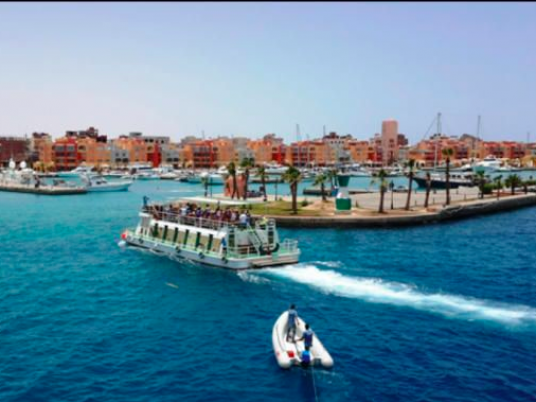 'Fully booked' signs reappeared at Red Sea hotels and resorts, which have witnessed a remarkable occupancy rate increase due to the rise in domestic flights from Cairo and other governorates.
Occupancy rates ranged between 80 to 95 percent, even after the end of the Eid al-Fitr holiday; some resorts and sites in Hurghada are still at full capacity, and beaches are packed with holidaymakers.
Moreover, Egyptians' turnout for sea voyages to Giftun islands, as well as snorkeling and other water activities, also increased.
Reservations start from LE800 for a double room in four-star hotels, and range between LE1000 and LE2,800 in five-star hotels, depending on the level of service and the hotel's location. The typical duration of patrons' stay averaged between 3 to 6 nights.
Red Sea resorts are estimated to see around 200,000 Egyptian and Arab visitors, who spend their holidays in Hurghada, Sahl Hasheesh, Gouna and Safaga.
Egyptians represented 60 percent of total guests at Red Sea locations during the Eid al-Fitr holiday.
Mahmoud Saber, a member of the Tourist Guide Syndicate in Hurghada, said that domestic tourism is a lifesaver for various hotels and tourist resorts. It keeps employment afloat and creates new job opportunities for dozens of people.
However, Bashar Abu Taleb, chairperson of Tourist Guide Syndicate in Hurghada, claimed that domestic tourism is not a substitute for international tourism, which provides hard currency and creates job opportunities for tour guides and workers at diving centers.