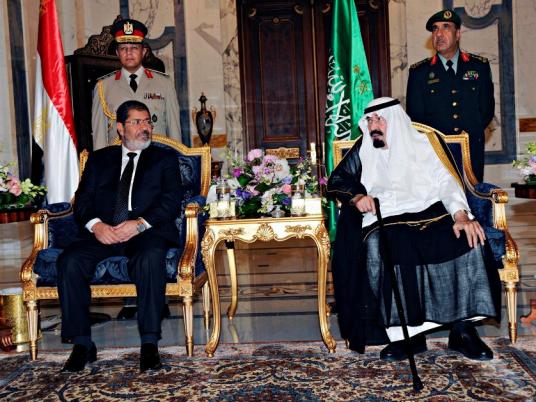 Cooperation between Egypt and Saudi Arabia does not constitute a threat to anyone, Saudi Ambassador to Egypt Ahmed al-Qattan said on Wednesday.
President Mohamed Morsy's visit to Saudi Arabia was "important" by all standards, Qattan added.
"President Morsy's desire to make this his first visit abroad is a recognition of the status that Saudi Arabia and the king enjoy in Egypt after the revolution," Qattan said. He added that during the meeting, the two leaders agreed that the stability of Saudi Arabia and the Gulf states is important for Egypt.
"President Morsy said Egypt will not allow any interference in its internal affairs or those of the Gulf states," he said. "We all know what this means."
"We are also able to protect our territory against any outside interference," he said. "And we extend our hand to all of those in the Arab region to be safe and stable."
Edited translation from MENA