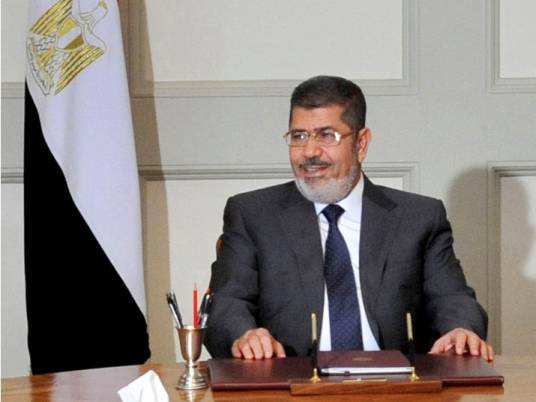 Egypt deprecated a statement issued by the Spokesperson for the Office of the High Commissioner for Human Rights (OHCHR), Rupert Colville, on the death of toppled President Mohamed Morsi on Monday during a trial session.
Egypt described Colville's statement as an attempt to politicize a natural death. It added that the attempt was not worthy of an official spokesman for an international organization.
"Any sudden death in custody must be followed by a prompt, impartial, thorough and transparent investigation carried out by an independent body to clarify the cause of death," Colville's statement read.
"Concerns have been raised regarding the conditions of Mr. Morsi's detention, including access to adequate medical care, as well as sufficient access to his lawyers and family, during his nearly six years in custody. He also appears to have been held in prolonged solitary confinement. The investigation should therefore also encompass all aspects of the authorities' treatment of Mr. Morsi to examine whether the conditions of his detention had an impact on his death," the statement added.
Egypt's Foreign Ministry Spokesperson Ahmed Hafez denounced the statement and said it aimed at questioning state institutions and the Egyptian judiciary.
"The statement is a deliberate attempt to undermine Egypt's commitment to international standards, and even to leap to conclusions that are not based on any evidence or proof," Hafez mentioned in a statement on Wednesday.
The Egyptian authorities had already implemented Colville's suggestions out of genuine national commitment to justice and respect for international commitments to justice, he said.
"Egypt is aware that such blatant politicization is consistent with the statements of officials in countries and entities that have taken advantage of the event for political purposes," Hafez said.
Referring to countries and entities unnamed by Hafez, he continued by saying that those countries are authoritarian dictatorships that proclaim to respect democracy and human rights while actually resorting to all kinds of practices to remain in power, including the manipulation of election results, imprisoning tens of thousands of political opponents, and harboring terrorist organizations.
Hafez stressed that Colville's statement lacked objectivity, integrity and professionalism.
Edited translation from Al-Masry Al-Youm