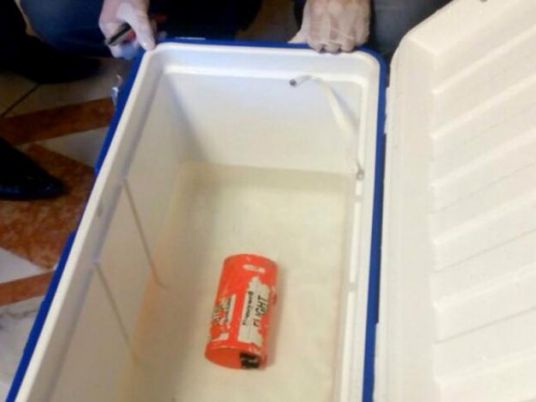 Egyptian investigators said on Saturday the cockpit voice recorder (CVR) of crashed EgyptAir flight MS804 was now in a condition to extract recordings.
The investigative committee said in a statement that, after repairs, the CVR was in a condition to retrieve information that could help explain why the Airbus A320 jet plunged into the sea on May 19, killing all 66 people on board.
The committee said its members were planning to return to Cairo to continue reading and analyzing the flight data recorder and CVR at the central department for aircraft accidents at Egypt's Ministry of Civil Aviation.
Investigators have already downloaded data from one of the black box flight recorders on EgyptAir flight MS804 and are preparing to analyse it, bringing them closer to discovering what caused the jet to crash, Egypt's investigation committee said on Wednesday.
The Airbus A320 plunged into the eastern Mediterranean Sea en route from Paris to Cairo on May 19, killing all 66 people on board. The cause of the crash remains unknown.
"Preliminary information shows that the entire flight is recorded on the FDR since its takeoff from Charles de Gaulle airport until the recording stopped at an altitude of 37,000 feet where the accident occurred," Egypt's Aircraft Accident Investigation Committee said in a statement earlier this week.
Search teams have salvaged both of the so-called black box flight recorders. Investigators are now preparing to analyse data from the flight data recorder.
"Recorded data is showing consistency with ACARS messages of lavatory and avionics smoke," the committee said, referring to the Aircraft Communications Addressing and Reporting System, which routinely downloads maintenance and fault data to the airline operator.
The plane had sent a series of warnings indicating that smoke had been detected on board through ACARS.
Recovered wreckage from the jet's front section showed signs of high temperature damage and soot, the committee said. Those were the first physical signs that fire may have broken out on the A320 airliner, in addition to maintenance messages indicating smoke alarms in the avionics area and lavatory.
The committee said these findings would need further analysis to discover the source and reason for the marks, however.