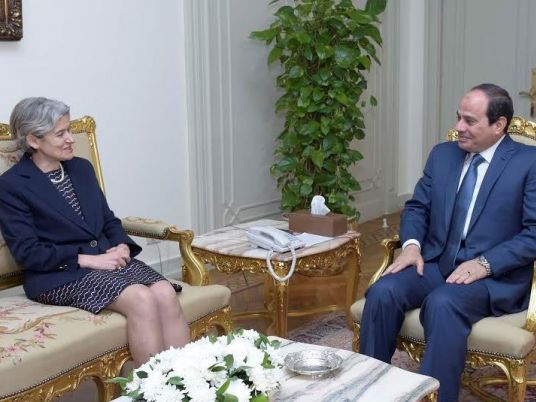 Higher Education Minister Ashraf al-Sheehy said on Friday that he has invited UNESCO Director-General Irina Bokova to inaugurate the new office of the UN cultural organization in 6th October city.
Sheehy met Bokova on Friday on the sidelines of the 200th session of the Executive Board currently being held at the organization's headquarters in Paris from October 4 to 18.
Sheehy said he also invited Bokova to inaugurate The Museum of Islamic Art in December.
The museum has been under restoration for the past two years. In January 2014, a car bomb struck the Cairo Security Directorate on the other side of the street, causing huge damage to the museum and destroying many artifacts.
Sheehy said he discussed with Bokova the financial difficulties UNESCO faces, hoping that it would not affect the organization's pivotal and important role.
Egypt's ambassador to France and permanent delegate to UNESCO Ihab Badawy also attended the meeting.