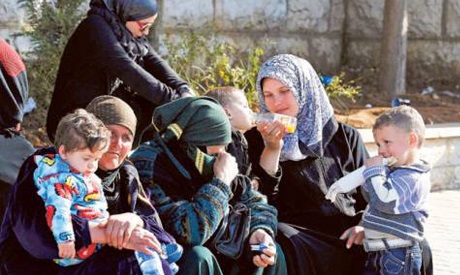 Egypt's foreign ministry expressed gratitude to several European countries, particularly Portugal, for their offer to help Egypt fight it's refugee problem by hosting a number of refugees in their respective countries.
The Egyptian Foreign Ministry Spokesman Ahmed Abu Zeid released a statement on Friday on the ministry's Facebook page welcoming the initiative.
"Lisbon recently proposed to resettle some 400 Egypt-based refugees in Portugal during 2018-2019 in full cooperation and coordination with the national parties concerned in Egypt," the statement read.
"We appreciate the role some European countries including Portugal in responding to the efforts made by Egypt when it comes to refugees," Zeid said.
The move comes as a result of the recommendations agreed upon in a meeting that took place between the parties in December 2017. Other European countries such as Britain, Germany, Sweden and the Netherlands have resettled hundreds of refugees as well, Zeid said.
Based on those recommendations, a group of Foreigners and Borders Service, a police service affiliated to the Portuguese government, paid their first visit to Egypt in order to conduct interviews with refugees and determine which would be the most suitable to take in.
In May 2018, the United Nations High Commissioner (UNHCR) in Egypt  announced that the number of refugees in the Egypt had reached 227,077, mostly from Syria. Egypt as well as European countries have faced an influx of refugees following the Syrian war in 2015, in one of the gravest refugee crises in history.
Egypt is currently under resource strain, and the country has underwent rigorous economic reforms based on the recommendations of the International Monetary Fund (IMF), in an attempt to fix its failing economy. This has resulted in severe price hikes in goods and fuel during the past years. Egypt also faces an overpopulation issue, struggling to maintain  nearly 100 million people.
Despite adopting an open policy towards refugees Portugal has failed to attract most of them. The country offers 18 months of free housing, a monthly stipend of 150 euros ($177) for each migrant and access to language classes to help integrate new arrivals into society.
Refugees do not want to come to Portugal due to the lack of established ethnic communities, Rstina Santinho, a researcher specializing in refugees and human rights at the Lisbon University Institute told Middle East Eye. Another reason refugees are turned away from Portugal is because most of the jobs the country offers for them are in tourism, requiring language skills they do not have, Santinho added.