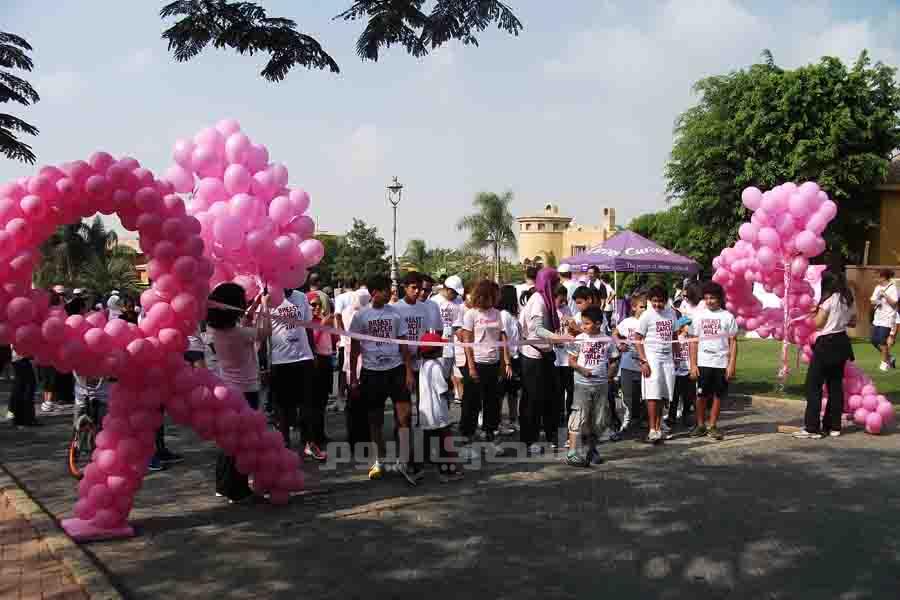 As Valentine's Day is a chance to show appreciation for those you love, the Breast Cancer Foundation of Egypt decided to provide free mammograms to women to mark the holiday.
"We thought it could be a nice gift for men to give to their wives, sisters or mothers, expressing their concern about their health," Mohamed Shaalan, a professor of cancer surgery at Cairo University's National Cancer Institute, tells Egypt Independent.
Shaalan, who is also the foundation's chairperson, says women with normal risk factors for breast cancer should get mammograms once every two years starting at age 40.
He stressed the importance of having a mammogram once a year starting at age 50 because women's chances of developing breast cancer increase with age.
For women who have a high risk for breast cancer, screening at a younger age is a must to avoid late-stage intervention.
Other than being a woman and aging, there are plenty of other risk factors for breast cancer that could lead to the disease's appearance at an earlier age than normal.
Heredity has been found to be one of the strongest factors for the development of breast cancer.
"Women with family members who have suffered from breast cancer are at higher risk for getting the disease," Shaalan says.
He adds that women who did not breastfeed are more vulnerable to the disease.
"Women should not underestimate the protection breastfeeding provides against breast cancer," Shaalan says, advising mothers to refrain from bottle-feeding.
Women who had their first menstrual period before the age of 12 or are taking postmenopausal hormones without medical supervision are also at higher risk and should see a specialist to detect any signs of cancer.
Shaalan says that 40 percent of cancer cases can be cured as a result of early detection.
Getting a mammogram is the first step in taking a proactive stance against breast cancer, but women should also take into account that a healthy lifestyle can help prevent the disease.
"Obesity, smoking and high alcohol consumption can increase the likelihood of developing breast cancer," he explains.
Shaalan recommends adopting a healthy lifestyle, including four hours of exercise per week, such as walking or aerobics exercises, and sticking to a balanced nutrition plan, rather than undertaking short-term diets.
According to the Breast Cancer Foundation's statistics, breast cancer represents 29 percent of women's cancer cases in the world and 37.5 percent of women's cancer cases in Egypt.
Shaalan names financial concerns as a barrier that prevents Egyptian women from getting mammograms, saying, "The screening costs around LE600, which imposes a financial burden on low and middle-income families. Definitely they will not prioritize mammograms over their daily life needs and house expenses," he says.
Common misconceptions are also an obstacle to fighting the devastating disease.
"Women fear receiving a cancer diagnosis. Some wrongly believe that the only cure of the disease is a breast removal, so they prefer not to get screened in the first place," Shaalan says.
However, Shaalan says there are also major difficulties in navigating the healthcare system in Egypt.
"Lack of access to healthcare information is one of the crucial issues facing breast cancer prevention," says Shaalan.
"When women think they may have symptoms of breast cancer, they don't know which specialized doctor they are supposed to get in touch with for medical advice and which screening test to conduct," he says.
He says another obstacle in the process of breast cancer detection is that, though some government hospitals offer advanced digital screening mammography, they lack the expertise necessary for identifying cancer.
"Physicians need to have specialized training in mammography so they can interpret the images easily and make a more accurate diagnosis," he says.
The Breast Cancer Foundation of Egypt has been trying since 2004 to raise awareness about breast cancer and encourage women from all social and economic backgrounds to get regular screenings.
The non-governmental organization runs campaigns across the country that provide medical examinations and mammograms at affordable prices or for free to women who cannot pay for the service.
Women who want free mammograms can call the Breast Cancer Foundation of Egypt at 19417 from 9 am till 3 pm to make an appointment at a radiology center.